Shopping Cart
Your Cart is Empty
There was an error with PayPal
Click here to try again
Thank you for your business!
You should be receiving an order confirmation from Paypal shortly.
Exit Shopping Cart
| | |
| --- | --- |
| Posted on April 27, 2015 at 6:16 AM | |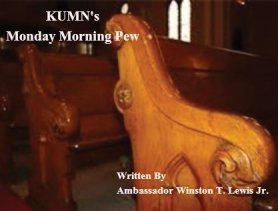 Blessed Monday morning to all! As we begin the week, once again the opportunity presents itself for us to continue our spiritual journey refueled and ready to go. This blog serves as an opportunity to share our reflections on the spiritual enlightenment that we received over the weekend. It just happens that my point of view peers through the spectrum of Kingdom United Ministries Network and it's weekly and monthly broadcasts. It's here where we can continue the conversations that we held this past weekend. Saturday featured the usual fourth-Saturday cyber-service of Kingdom Kids Network (KKN) hosted by Clinton and Imani with a fresh view of what is going on in the world of our youth from a Christian perspective, while the Sunday evening weekly broadcast of Dying To Be Married (DTBM) with Winston and Sondra Lewis continued to navigate through the issues of matrimony with a cross-like (horizontal/vertical) relational perspective.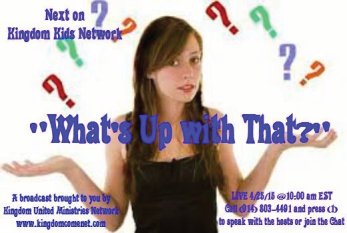 KKN contributed to the Kingdom conversation with 
Kingdom Kids Network "What's Up with That?"
, where they challenged the motives of their peers during an anti-bullying campaign held at their school. This notion stemmed from their observation of how their peers handled the noble effort to stand against bullying (a prime culprit which hinders many students' progress as well as a main source of violence that has resulted in many harming themselves and others sometimes even resulting in murder and suicide) with counter productive acts of selfishness. This approach then allowed them to delve deeper into the mindset and actions of their generation as whole as portrayed throughout their current landscape as viewed through current events.  Ultimately, their conversation culminated in inviting their fellow youth to get to know the solution to the ever present pressures that they face continually -- a relationship with The answer, Jesus Christ.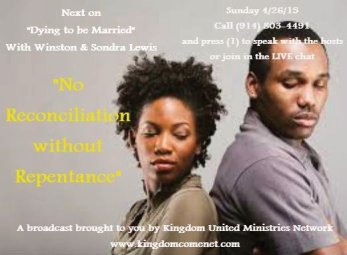 DTBM continued the series 
DTBM "No Reconciliation without Repentance"
.  This cyber-service left many doors open during the exploration of the main text, which established the main point which the title suggests. Though my perspective may be considered bias, the broadcast opened with a fiery spirit-filled word via Ambassador Sondra which must be heard. The exhortation was evoked by a simple salutation which queried, 'what was on her heart', yet it yielded a response that indicated her heart was full of some good word from the Lord which if properly digested, can help anyone spiritually hungry to get full. 
As much as we are live and invite those listening to participate in the conversation, we also realize time is short to cover such robust and critical subject matter. This is why we continue the conversations here. Yes, here is your chance to respond to those things we covered and also share what inspired, motivated and inundated your spirit this past weekend and refueled you to address the soul check --"What's in your pew?"
Categories: Monday Morning Pew
/