Shopping Cart
Your Cart is Empty
There was an error with PayPal
Click here to try again
Thank you for your business!
You should be receiving an order confirmation from Paypal shortly.
Exit Shopping Cart
| | |
| --- | --- |
| Posted on July 27, 2015 at 6:17 AM | |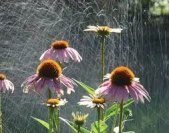 Blessed Monday to all! Trusting that your summer season is going well. Forging forward while enduring the ever-challenging world of trailblazing, I continue with reporting the events of this past weekend's spiritual activities of KUMN. This past weekend featured some expanded voices of Kingdom Kids Network (KKN) on the fourth Saturday morning monthly series installment as well as the third installment of Dying To Be Married's Marriage 101 series.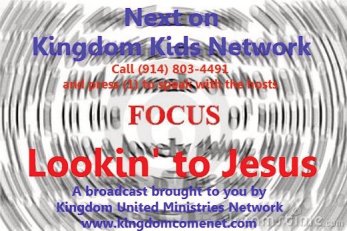 On Saturday morning KKN held court with the featured subject "Focus: Lookin' To Jesus", which is a vital word of encouragement not only for youth, but for all believers daring to venture down the path which features the strait gate and the narrow way. This episode featured the expanded voices of Kayden and Kierra Walker who gave poignant testimonies concering the insight they've gained in their early days of walking with the Lord and how focus is key while facing the upcoming trials which the new levels of school brings. Take a listen to how these united voices of Kingdom youth expound on the benefits of Christ in their lives while facing the daunting tasks of being minorities among their peers due to their Christian beliefs. You may notice how these young voices can offer sage advice to any takers. (Click here to listen) 
Kingdom Kids Network: "Focus: Lookin' To Jesus"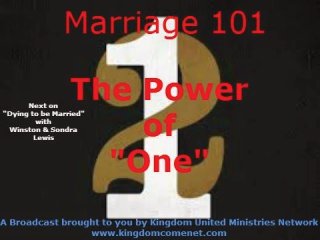 On Sunday evening KUMN's flagship broadcast of DTBM set sail navigating the series Marriage 101 to the shores of it's third installment. As the title conveys, the series continued to examine the origins of marriage as described in the book of Genesis as well as visiting the fifth chapter of Ephesians' profound expose´ on  marriage between husbands and wives contrasted and paralleled to that of Christ and his bride, His Church. As forecasted in previous series cyber-services, we reserved the right to go deeper. As much as we delved into the deeper  aspects that marriage represents, such as the contrast of the relationship of the unity of the Godhead and the greater truth of how marriage as GOD intended between man and woman  contrasted with that of Christ and His Church, Sondra and I revealed our testimony of transparency as we recently commemorated our recognition of our commencement into our official call into ministry.
DTBM: Marriage 101 "The Power of One"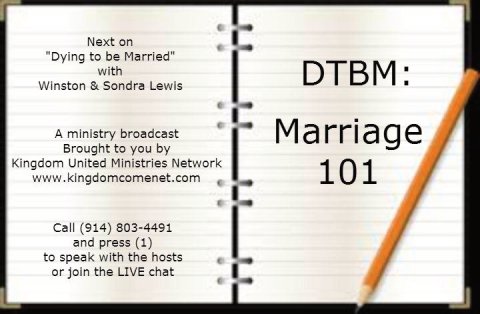 It is here that I would like to include some of the response that an eyewitness and friendly neighbor contributed after hearing this cyber service. Sis. Belinda Ferrill-Myles wrote: "Regarding this couple's experience of being put out of their family home, they continued to be a family of "Faith". And sometimes people of faith act abnormal. What I mean is that their faith within them produced an unbelievable calmness. (And) this is not what society believes to be a standard or normal reaction. They were too calm for the situation at hand. They did not know, but as a spectator, I witnessed one of the most "spiritual markers" of my journey with Christ. And as a previous neighbor of mine that grew up my children commenced to remove this couple's belongings I knew then that I had experienced an Abraham moment. I knew than that God had a plan for those of us who join Him. I also knew that they were in God's hands and that they were truly alright. This familiy's wilderness experience was a God inspired moment for my husband and I . " (May Brother Keith, Belinda's husband rest in peace).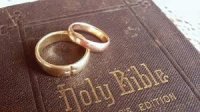 Sis. Rebecca Fitzgerald also responded saying: " The broadcast tonight was a truly touching and moving experience in so many ways. I listened to both of you teach on what true biblical marriage is, you gave the scriptures, and broke down the meanings and application. God's Word makes it very clear, but so much of the world is in denial. The testimony you both gave on being homeless was truly moving - your transparency had me in tears. Your faith was a beacon of light during a very difficult time for your family. But you showed us what faith in action looks like, and in it, God set you on a new path and gave you the Victory! Thank God you had Belinda and her family. Praise the Lord for them then, and your enduring friendship now."
These were some of the highlights of our cyber-services, now, 'What's in your pew?"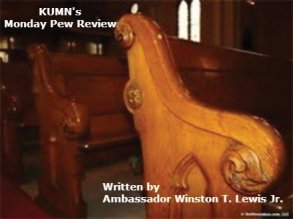 Categories: Monday Morning Pew
/