Shopping Cart
Your Cart is Empty
There was an error with PayPal
Click here to try again
Thank you for your business!
You should be receiving an order confirmation from Paypal shortly.
Exit Shopping Cart
| | |
| --- | --- |
| Posted on May 6, 2015 at 11:13 AM | |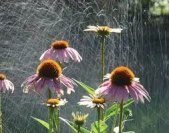 Blessed Wednesday to all! From Sunday's DTBM subject, "Showers Bring Flowers", emerged the query, 'into every life some rain must fall, the question is: can you stand the rain'. The scripture that was established was found in Matthew 5:44 - 45 "But I say unto you, Love your enemies, bless them that curse you, do good to them that hate you, and pray for them which despitefully use you, and persecute you; (45) That ye may be the children of your Father which is in heaven: for he maketh his sun to rise on the evil and on the good, and sendeth rain on the just and on the unjust." This established the fact that rainy  days will come, acknowledging that many perceive a rainy day to be one of gloom. Though we took some time to expound on this passage, per  usual during the cyber-service, the holy spirit led us to go in another direction and we were not able to fully expound on this notion. That is why we continue such conversations via this venue. Hence, the proceeding word, "After The Rain".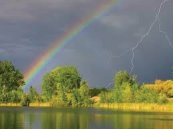 The first point that deserves exegesis is dispelling the perception that rain is a bad thing. This was one of the points covered in the broadcast (listen to 

DTBM- SHOWERS BRING FLOWERS

), yet there's more. The good news of this gospel message is that many of the perceptions that the majority of the world shares that exude doom and gloom, the word of GOD conversely shows to be incidents of goodness. Furthermore, form such incidents can emerge the most profound and prolific, life-changing messages. For instance, if one were to believe that rain and even storms were indicators of bad times in life, what can be divulged via the gospel truth is that such occurrences

still

yield peacable results like flowers blooming, crops growing, and all of nature, including humankind, flourishing. Thereby, though some storms yet result in some negative after effects, more positive results and consequences abound. So it is in our relationships. In many relationships which have ended in divorce, there were children born, which, truth be told, are always a blessing. Therefore, we must then realize that there is yet opportunity to salvage, which is necessary after many storms, them cultivate and nourish such fruit. Granted, some may only see their children as the bane of their existence, in those cases, this soulcheck resounds,  'what are you doing to make your fruit grow properly?'. As the Bible states, "Do not be deceived: God cannot be mocked. A man reaps what he sows." Thereby, ripeness and rotteness is a result of what we sow many times. On final point, one of the benefits of believing in Christ is, " And we know that all things work together for good to them that love God, to them who are the called according to 

his

 purpose." So, however you view a storm, you who be of faith, know that somehow it's working out for your good.

Categories: Midweek Meditations

0

/