Shopping Cart
Your Cart is Empty
There was an error with PayPal
Click here to try again
Thank you for your business!
You should be receiving an order confirmation from Paypal shortly.
Exit Shopping Cart
| | |
| --- | --- |
| Posted on April 6, 2015 at 5:25 AM | |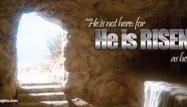 Blessed Monday Morning to all! "Arisen, now what" is the soulcheck for today. As we have all just observed (some were on the outside looking in) and/or celebrated the singular most magnanimous event in human history -- the death burial and resurrection of our Lord and savior Jesus Christ, the question to our souls begs the previously quoted (above) query. What will you do, today, with the power of the message of the resurrection of Jesus Christ? To those who may not be familiar with this blog, it is taken from the phrase Monday morning quarterback, which is a time when football fans (of which I am) take the opportunity to critically review their favorite football team. However, Monday Morning Pew is the opportunity to give a spiritual review of what occurred over our weekend, while affording us the opportunity as believers to unite in conversation and break bread together, cyberly speaking.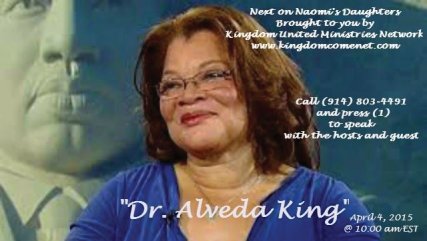 On Saturday, April 4th KUMN's 1st weekly broadcast of the month, Naomi's Daughter's, hosted by Ambassador Sondra Lewis with Women On Fire, held court . It was quite the cyberservice. Naomi's Daughters featured a true daughter of Naomi (her Mother's real first name), Dr. Alveda King, the daughter of Civil Rights activist and Pastor A.D. King as well as niece of Dr. Martin Luther King, Jr. Beyond the regal association of her family, Dr. King shared some powerful and insightful nuggets from her own testimony. In the time allotted, the interview was chock full of morsels to digest. The conversation included a number of provocative items ranging from her new publication "King Rules", abortion, sexuality, civil rights and last but not least, the reason for the season, Christ's resurrection and  Resurrection Weekend (if the secular world can expand the time, so can the Kingdom). What was just as poignant was the response and input by the Women On fire (which they truly were) Ambassadors Kathy Thompson, Debbie Mirander and Latoya Walker. These ladies continued the conversation with a potent homily seasoned with a prophetic word from Ambassador Sondra. You can listen to the program on demand by clicking on  
Naomi's Daughters with special Guest Dr. Alveda King
. 
ND's cyber service was like an Easter dinner; it left us with plenty of leftovers. One of the common issues that rang thematic was that of what the weekend was centered: resurrection. Dr. King mentioned how she emerged from abortions, previous marriages and other challenges that many women perpetually suffer with unhealed wounds. This provoked the panel to invoke their input supported by scripture on the redemptive power of our Lord King Christ. These Queens expounded on scripture and their own testimonies of encouragement while referring and representing the King of Kings. One of the great take-aways was how Christ's resurrection represents for us today how we can emerge from what seems to be dead situations, victoriously. 
Well those were just a few spiritual morsels that were KUMN's pew, what's in yours (and if you have pictures of you and/or your beautiful family you're welcome to include).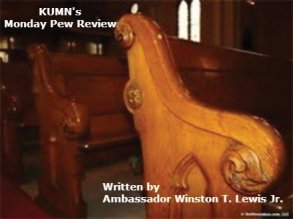 Categories: Monday Morning Pew
/