Shopping Cart
Your Cart is Empty
There was an error with PayPal
Click here to try again
Thank you for your business!
You should be receiving an order confirmation from Paypal shortly.
Exit Shopping Cart
| | |
| --- | --- |
| Posted on March 23, 2015 at 5:59 AM | |
Blessed Monday morning to all. I want to take a moment to emphasize the call to unity. If you have heeded the call that The Holy Spirit has expressed concerning moving past denominational barriers and unifying, I'm imploring you all to participate by responding to this blog. There are pervasive plans of the enemy which mean to keep us as believers divided. These plans include every effort for us to only be concerned about things with our name on it or of what we're associated. They also include plans to keep birds of like feathers flocking together, or to have us not reach across the proverbial aisle to our fellow believer's because we may not get enough credit in doing so. One of the ways we offer as a remedy to such division is to invite you all to participate in our various conversations while we promote what you're doing as it pertains to ministry. This creates a win-win atmosphere for us all. As great a tool as social media is, we must be careful especially as believers not to fall for the ploy that we're effectively more social because we participate; in many instances these social outlets have made us more self absorbed and alienated. Self-absorbed because it allows us to create a world of our own, full of illusions, full of willing participants whom we want to agree with us or whom we can conveniently love to hate, while we unknowingly (or sometimes by choice) become alienated by the real people and real world around us. If you are of the ilk that really want to be a part of the revolution that means to make a real difference for the Kingdom of the True and Living GOD, then come and let us reason together. Let's start by discussing what we've gathered in the pews or where ever the spirit moved us this past weekend.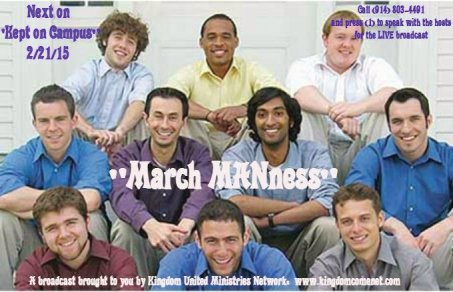 This weekend featured KUMN's third Saturday cyber  service of Kept On Campus hosted by Ambassadors Winston III and Quinton K. Lewis, presenting the subject "March MANness" as a salute to manhood and Dying To Be Married With Winston and Sondra Lewis and the continuing Growing In Grace series, with the subject of "From The Root To The Fruit: The Process".  KOC established poignant points of why the knowledge of "true" manhood is necessary and the effects thereof. They also emphasized three very important components that every man should be. If I may echo the sentiments of The Heavenly Father himself, as was portrayed in the 3rd chapter of Matthew and the 17th verse, at Jesus' baptism, these are my beloved sons in whom I am well pleased. For the details of this profound and significant information listen to the whole broadcast at 
Koc: March MANness!
 .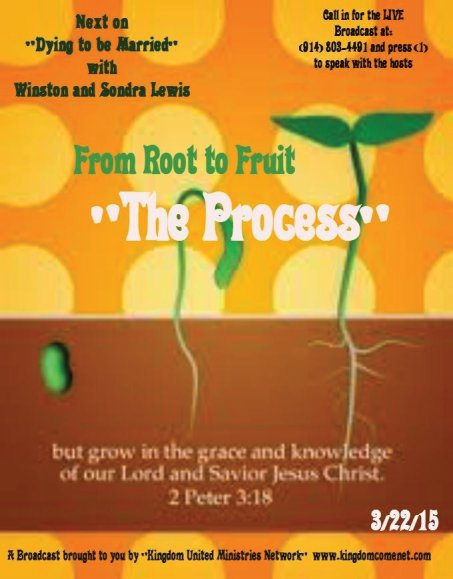 On DTBM, the continuation of the series was preceded by an Exhortation which used the Welcome Spring transition as a platform to spread a message of hope. This message of encouragement comes at a time for those who need to hear a word of hope in what seems to be hopeless situations and for those whom you know who can use such uplifting, do them a favor and share this word with them 
DTBM: "From Root to Fruit: The Process"
. As the series continued, we looked at Paul's divinely given analogous of how one may plant while another may water, but ultimately it will be GOD who gives increase. We also took a look at the things which have attacked our relationship's growth at various stages, then how to prevent such invasions. 
These were just a few of the morsels that were expounded on this weekend, it still begs the question -- what's in your pew?
Categories: None
/