Shopping Cart
Your Cart is Empty
There was an error with PayPal
Click here to try again
Thank you for your business!
You should be receiving an order confirmation from Paypal shortly.
Exit Shopping Cart
| | |
| --- | --- |
| Posted on March 16, 2015 at 8:20 PM | |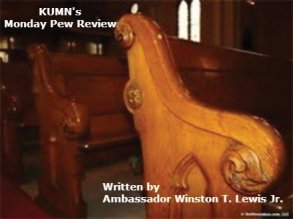 Good Monday Morning to you! This installment updates this past weekend's events  for Kingdom United Ministries Network and invites you to share what you've attained from your spiritual experience this past weekend. This second full weekend of March not only marked Old man Winter's thawing demise, while welcoming the long-awaited green of Spring, but it also featured Kingdom Foundational Truth (KFT)#5, The Holy Bible and Dying To Be Married (DTBM) with Winston and Sondra Lewis' Growing In Grace Series.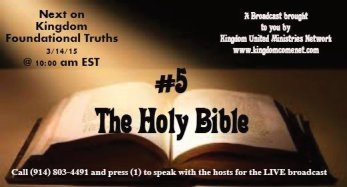 KFT #5 The Holy Bible featured the expanded voices of KUMN Ambassadors Dr. Linda Moriah, Debbie Mirander, Winston T. Lewis III and Quinton K. Lewis. As much as you can hear the full episode at 
KFT #5 "The Holy Bible"
 , there were several orts left on the table. As it is stressed every second Saturday of the month, KFT's goal is to provide a platform where all true Christians can unite by reasoning together. We thoroughly appreciate the participants for their input and insightful contributions concerning the subject, but even more so, the response to the clarion call to unify. Ort #1, from all of the input received, the common thread was the significance of The word of GOD as an instructional reference for every soul. With all of the usual fascinating characteristics of the holy writ, such as it's strict adherence to theme of GOD's plan of salvation and redemption of mankind through 66 books spanning thousands of years, including dozens of authors and thousands of souls of significance, it must also be noted how such ancient scriptures
still
wield the power to transcend denominational, gender and generational barriers, with the evidence of the round table assembled this past weekend. Ort #2, the current and modern influence as was represented by the men of Kept On Campus, Winston III and Quinton, as they attributed the Word of GOD as their foundation source for staying "kept on campus". This also allowed them to promote their upcoming broadcast "March MANness", which airs next Saturday 3-21-15 at 10 a.m. EST.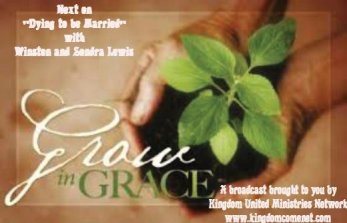 DTBM continued with the series Growing In Grace with the subject: "From Root To Fruit". When you listen to 
DTBM: Growing in Grace pt. 2 "From root to Fruit"
, you will hear references to passages in the first chapter of Genesis pertaining to the growing process of plants. From the passage Genesis 1:12, "And the earth brought forth grass, 
and
 herb yielding seed after his kind, and the tree yielding fruit, whose seed 
was
 in itself, after his kind: and God saw that 
it was
 good",  we obtained how the goal and end results of our being, are all contained in the seed. So it is in our relationships we will be able to forecast whether there will be fruit or not. Yes, our destiny is contained inside of us, more so, it is contained in what we say. If we do an honest analysis of  how we arrive at the great differences we have with each other, they are rooted in what we say or in what we don't say. This includes the keeping of our words, as in vows or promises that are made to each other. From the 13th chapter of Matthew, we see two parables where Jesus depicts the kingdom of heaven.  A point of interest that we had little time to expound during the cyber-service, was how Jesus explained that the seed that he spoke of in the parable was the word. This gives rise to how words germinate in our lives and relationships. Therefore, upon obtaining the results of a close examination of how words or even "which" words caused your relationship to run afoul, take as much time and an even closer examination of what words will heal or repair your relationship.
Well, these were some highlights of what was in our pew, what's in yours? 
Categories: Monday Morning Pew
/