Shopping Cart
Your Cart is Empty
There was an error with PayPal
Click here to try again
Thank you for your business!
You should be receiving an order confirmation from Paypal shortly.
Exit Shopping Cart
| | |
| --- | --- |
| Posted on February 9, 2015 at 9:04 AM | |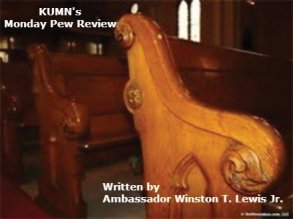 This first full weekend of February, yet 2nd Sunday of the month featured KUMN's 1st Saturday monthly cyber service and the second installment of the series, Levels of Love. As it was the 1st Saturday of the month, Naomi's Daughters took up the mantle which featured the testimony of KUMN Ambassador Dr. Linda Moriah and special guest Antoinette Tuff, the survivor and heroine who prevented a gunman from a shooting spree in Georgia a few years ago. Dying To Be Married Winston and Sondra Lewis featured special guest Heath Wiggins, founder of His Leadership Her Trust, a for married couples, and continued with the series of Levels of Love which focused on as the next level of love.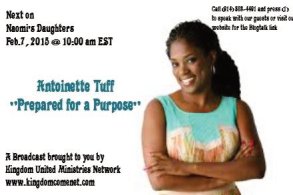 On Naomi's Daughters, hosted by Ambassador Sondra Lewis with insightful input from Ambassador LaToya Walker, Ambassador Linda Moriah gave an account of her travels to her home country of Suriname. She highlighted a very interesting account of how GOD showed His hand of deliverance by making a way as only He can. The results of her testimony, that established how GOD will make a way out of what seems to be "No Way", acted as a great segue for guest Antoinette Tuff. It was seen on an international scale, how GOD used this courageous woman to thwart the intended massacre at a Georgia school in 2012. The interview not only focused on the harrowing event, but it was also an opportunity for Ms. Tuff to speak words of encouragement to the audience as well as highlight some of the things she's successfully established in the wake of the event including a new non-profit organization and a new publication, "Prepared For A Purpose". One very important nugget to gather, which by highlighting it here, will not spoil your listening to the archive (in case you've missed it live go to www.kingdomcome.net/naomisdaughters), is the message of how enduring  and overcoming the urge to end one's life can result in fruitful and powerful results.
On DTBM, as we continued with the next Level Of which is the friendship type of love or a love of common interests, a word of exhortation went forth which featured the exercise "Show Me Yours and I'll show You Mine". If you're wondering where this phrase took the conversation, check out the archive of the cyber service @ www.kingdomcomenet.com/dtbm or http://www.blogtalkradio.com/kumn/2015/02/08/dtbm-levels-of-love-pt-2-phileo-with-special-guest-heath-wiggins. The interview produced several points that, though addressed, could not be covered fully in the time allotted. Yet this provides great fodder for this venue in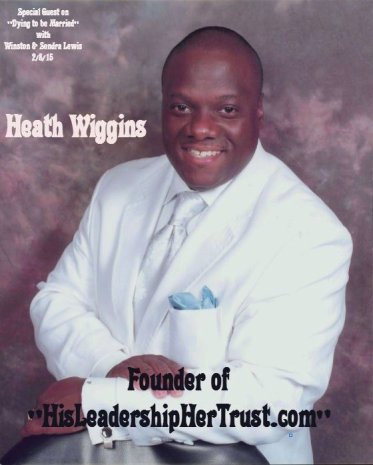 Matthew 14:10 states, " They all ate and were satisfied, and the disciples picked up twelve basketfuls of broken pieces that were left over." If you don't recognize this portion it is the summation of the aftermath of the miracle Jesus performed when he fed over 5,000 people with two fish and five loaves of bread. As stated, there were more than the original meal! This brings us to take a closer look at the "" that were leftover from DTBM. asked a general opening question of 'how you doing and what's on your mind', Brother Wiggins brought up how he has to focus on an approach to his service. As much as you can listen to the archive and hear his original response, there were so many from this point of interest. For instance, what is it that makes us have to feel the need to apologize for positivity and productivity? Also, what makes one qualified to inspire and motivate someone to learn, grow and change for the better? It reminds me of the passage in Jerimiah 1:4 -10, when Jerimiah expressed to GOD how he felt ill prepared and unqualified for the call that GOD had on his life. GOD's (response was one which He'd reiterated through man's existence -- It is I (Am) that equips and qualifies you to do what I have told you to do. This reiteration was implied throughout the lives of the Patriarchs of the book of Genesis, was expressed explicitly when GOD responded to Moses' incredulous response to his call at the burning bush and resounds to us today and yes, to you and I when it has been revealed that we've been included in HIS divine plan which, when detailed, seems overwhelming. Know this, my fellow faith sojourners, say to yourself, "I am 'I AM' ready, GOD has made me ready to do this [thing]" (fill in the bracket with that thing you've been called to fulfill). 
#2 The question was asked [paraphrase] - 'what are some of the common things seen that occur between husbands and wives',  Brother Wiggins' answer of how he found that some men had never learned to be leaders lead to the deeper notion of how this concept of 'black men not knowing how to lead' stemmed from instances of slavery, through the Jim Crow Era and are still prominent in today's society. The point was brought up how this was not only intentional but systematic. It is also important to note how these points are not just an African American male issue, but one which affects all of society. It is the ever pervasive message of Love (note the capitalization because GOD is Love) which from the alarm clock of life indicating mankind's wake-up call -- WE ALL ARE ONE AND ARE IN THIS THING CALLED LIFE TOGETHER!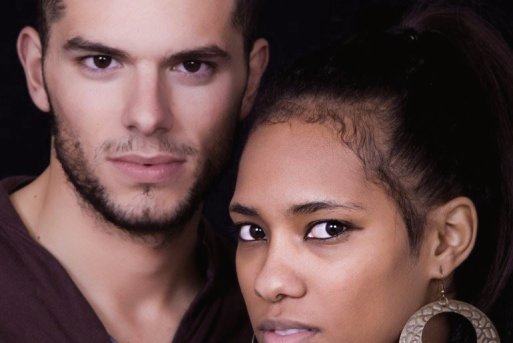 Ort #3 When we finally did get into our subject (unapologetic for the flow that occurred), we examined this concept of the "side dude", not to be confused with a "side chick". when you listen to the broadcast you'll hear how  this concept was explained, but of other and further thoughts continues here. As much as the conversation which initially spawned the subject, relegated the side to the limits then defined, it provoked thoughts of instances where relationships suffered from the imbalance of affection between participants. This delicate balance of mutual love and respect goes back to Leah and Jacob, in the book of Genesis, stops by the relationship of David and Bathsheba, Soloman and the Queen of Sheba and has permeated, morphed and evolved throughout  today's society. The results vary nearly endlessly, including issues like, 'even though I let them know we're only friends, they still want something more', to 'He (or) she says we'll never be more than friends, but their actions say more; we have children together!' to 'he or she will love me more if I just change [F.I.T.Blank]'. Then on the other side, there are the issues of, 'I'm just in this situation to bide time until something better comes along', or 'someday my prince/princess will come, but in the I'll kick it with the maid or butler'. As can be seen, there are many possible  variations in between, but in the interim, are toxic seeds being sown. It usually goes unconsidered that when the user,
does
find
that
person, the damage of "using" that side person is done, for all intents and purposes, the user could well become ie. main person considers
you
to be the side person! Call it Karma, but I choose to trust the truths of the Bible, which states "you reap what you sow".
Well, that is just some of the things I found in my pew, what's in your pew?
Categories: Monday Morning Pew
/