Shopping Cart
Your Cart is Empty
There was an error with PayPal
Click here to try again
Thank you for your business!
You should be receiving an order confirmation from Paypal shortly.
Exit Shopping Cart
| | |
| --- | --- |
| Posted on April 20, 2014 at 4:19 AM | |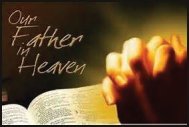 When We Pray…
By
Kathy Thompson
In the Gospel of Saint Luke the 11 chapter, Jesus answered the question of his disciple's; "How should we pray? "  Jesus starts the answer with the famous Lord's Prayer "Our Father, in heaven, holy is your name. Your kingdom come and your will be done on earth as it is always done in heaven. We pray, Father, for food for this day. We ask for forgiveness for all sins and we ask for the grace to forgive all that is in debited to us. "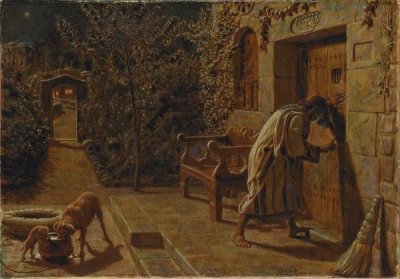 He goes on to talk about the importune neighbor, as he is called in some translations. In Luke 11: 5-8, there was a certain man who had a visitor call on him in the middle of the night. This visitor was weary and hungry from his travels and in need of a meal. The man had no bread to offer his visitor so he got up and went to his neighbor to borrow bread. Knocking incessantly, he cried out, "Give me bread!" The neighbor answered his door. With annoyance and impatience he answered that he was asleep and his family was in bed. Being a neighbor of the man in need, I believe that he would be happy to help him if he would comeback when it was day. The man continued to knock until the neighbor got up and gave him bread. Importune means to ask incessantly even to the point of annoyance, without shame or doubt. The neighbor gave him bread, not because the man was his best friend or because he felt pity for the man's, situation, but because the man was bold in his request never ceasing. He would not take no for an answer.
I believe that Jesus gave us this parable to illustrate that, yes, the content of our prayers are very important, but what is equally important is to be bold enough to ask for what we want and to keep asking until we get what we need.  Hebrews 4: 15, 16 tell us that Jesus sympathizes with us and wants us to approach the throne of grace with boldness. This boldness is translated confidence. He wants us to confidently ask for what we need.

 Jesus tells us another parable concerning prayer. In Luke 18: 9-14, two men went into the temple to pray. Both men were prominent in the community; a Pharisee and a tax collector. The Pharisee's were the head of the church at that time. They interpreted the scripts and upheld the Mosaic laws. The tax collectors were as their names suggest, they made sure that everyone paid to the government what was due the government. This caused some hardships to the less fortunate and because of that the tax collectors were some of the least liked members of the community. The Pharisee began his prayer with, "Lord,  I thank you that I am not like other people, I am not a thief or a rouge and I am definitely not like that tax collector over there, I fast twice a week and I tithe a tenth of all of my earnings."  The tax collectors could not even look up to the heavens, he beat his chest and prayed, "God, show me mercy for I am a sinner."  Jesus said that the tax collectors prayer was just for the proud will be humbled and humble will be exalted. My point is this: approach the throne of grace assured that the Father will be gracious and provide for our needs but not with presumption or pride. Yes, it is your right as Son's to confidently ask for what you need and want, but ask in faith and with humility.  It is your inheritance and your birthright to have your needs met.  He made you the head and not the tail; above and not beneath, but be careful not to exalt yourselves higher than you ought.










Categories: Kathy's Kitchen, Naomi's Daughters, Prayer request

0

/