Shopping Cart
Your Cart is Empty
There was an error with PayPal
Click here to try again
Thank you for your business!
You should be receiving an order confirmation from Paypal shortly.
Exit Shopping Cart
| | |
| --- | --- |
| Posted on April 17, 2014 at 3:01 PM | |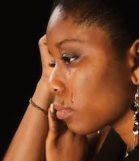 In listening to today's Naomi's daughters broadcast today, Sister Madelyn Bass testified about the loss of her infant son and the feelings of loss that she and her family experienced. She talked about how she was able to see her son and to hold and love him but to never be able to bring him home. Her infant son passed away in the hospital after his birth. She shared how this caused brokenness in her marriage, how her husband's analytical personality needed someone to blame for the loss. How she too looked for an answer to the loss and she turned this need for answers inward causing weight gain and other maladies. This ultimately caused the destruction of her marriage, ending the marriage in divorce.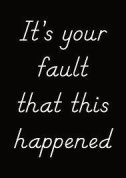 What struck me in that portion of her testimony was that it mirrored my life and marriage a great deal.  How my ex-husband always needed someone to blame for all complications in life. I remember, right after we were married, we had our first daughter and not a lot of money and very little support. The steering column in the car went out while he was on the highway. This caused an accident. I had no idea about what had happened until he returned home. Instead of coming in and telling me what happened, he came in and attacked me. I was to blame for the family's poverty and lack. I was the wife and should be able to step into the gap and meet the needs that he could not. I was 17 years old with a 9 month old and a 2 year old from a previous relationship and I did not know how to balance being a wife and a mother and a "gap stepper" at that time. I wanted to comfort him and mourn for the loss of our only transportation at the time but I did not have the chance. I had to go into high alert and defend myself; emotionally, mentally and yes physically.
He had a habit of not coming home on payday. When he did come home a day or two later, he would be broke, having spent the whole check in drinking and partying. I would then call my Grandfather or my uncle for help with food for me and my infant daughter Nikki. One time in particular comes to mind, he did not come home for a day or so and I was okay with that. This was what he did. But on the particular time the day or two stretched out much longer. We lived in a neighborhood that required the doors to be double bolted. Our door locks could be locked from the outside and without a key to that lock, those inside of the house could not get in or out. Well on this particular occasion, I did not notice that he had bolted that lock from the outside before he went to work on Friday morning. I did not notice that I had been locked in until day 3. The food had run out and I needed to try and get something into the house for me and Nikki. When I found that I had been bolted into the house, I called my Uncle and told him that we were out of food. He brought over bags of groceries that he gave me through the window. He said that he loved me but he did not get involved in marital issues so he would make sure that I did not go hungry but he could not free me from my jail. When the next Friday rolled around, I thought for sure that my husband would feel as though I had been fully and properly disciplined for whatever it was that I had done and that he would return and unlock the doors. Even if he did it in the middle of the night, I believed that he would come home and let me out. Friday came and went, Saturday came and went, but the only knock at the door was my uncle asking if I was well. Sunday morning was my breaking point. I put Nikki down for her morning nap; I climbed out of the window, leaving a stool at the bottom of the window so that I could get back in. I hoped that no one would see me do this and go into the house where my baby was asleep, but I had to do something. I called my grandfather and told him what was going on. He was there within an hour. He took the front door off of the hinges and freed us.  It was another week before he began calling my relatives asking of my whereabouts. I often wonder if he came back to free me or to bury me. After all of that, I still went back to him because he told me that it was partly my fault for making him do that to me. I was partly to blame.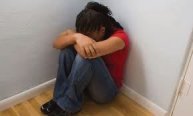 I know the feelings of shame and blame and the damage that they can do to you. My 9 month old is now 32 years old so this recollection was quite a while ago, but I still carry the scars from this and other situations. My ex-husband and his blame were hurtful but not isolated. My mother was an alcoholic and prescription drug addict and turned me and my sister over to relatives soon after our births. She would tell us that she was not equipped to raise us. That we deserved to be raised by someone, anyone other than herself, so we were shuffled around from home to home and in many cases, suffering abuse. I remember my family members telling me and my sister that we should be grateful for anything that we could get because our mother sealed our fate when we were born from her. They told us not to blame them for their callousness and indifference but blame her for our hardships. They did not have the kindness of heart to comfort us and care for us as children deserve; no, they to put us in the place of defending the only mother that we had. I carried the shame of her life choices all of my life. I was familiar with this feeling of shame when I met my husband and the many times that he lobbed all disasters back at me to carry alone, I was accustomed to carrying this shame; equipped in  accepting the responsibility of everyone and anyone.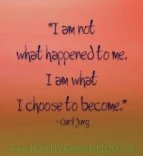 When I say that I still bare the scars, I do. In the workplace, I find myself taking the blame and responsibility for my team my teammates and the company as a whole when we do not meet the company goals or if there was a customer complaint; even if I had nothing to do with the situation. When something is going well at work, I bow out of any recognition and praise. This is my humility, or so I believe.  But as I write this I realize that this is the same pathology that compelled me to defend my mother and to feel the shame for my marriage woes; the responsibility for all and others. This is not a responsibility; this is a curse. This is the enemy trying to stop and block assignments at the very onset. Satan is trying to stop the purpose for my life.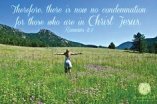 But this was all before Jesus stepped into my life and saved me. I bore the weight of a cross that was not mine; it was the cross of Jesus. It was not my job to bare the cross of my mother's decisions or to carry all of the responsibility of my failed marriage. I did have a role in its failure but it was not my failure alone. I have learned that the fault and the blame and the shame can be laid at the feet of Jesus…and left there.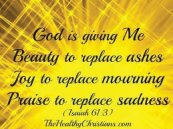 Isaiah 61 is one of my favorite books in the Bible 

because it speaks to me directly. It tells me that I am a strong oak tree, stable and strong, nourished by the Love and the Word of God. It says that God knows my shame and that I have been blamed for things that I could not control and that He has anointed me to prosper, not to fail. He has anointed me with joy not sorrow. And that He will give me beauty for my ashes, and a cloak of praise for my heaviness. I especially love the cloak or robe of praise for the spirit of heaviness. This passage tells me that when I am feeling that heaviness and the need to bare the weight of everyone and everything, that I am to look to the heavens for my help and to begin to open my mouth and praise the Lord for all that He is and for all that he has and will do for me. Sometimes opening my mouth and praising the Lord is difficult. That spirit of heaviness can be awfully heavy at times, so I do not leave my house without a fully loaded MP3 equipped with praise and worship songs and encouraging sermons and services, including Kingdom United Ministries Network broadcasts. When I feel like I am to blame for something that I have no control over, I pull out my weapon, my MP3 , and I begin to praise. I get strange looks sometimes because as you may know, when you praise, it lights a fire in your soul, and out of your soul, your mouth will begin to speak and sing. I find myself singing and praising.  I may be in line at the market.  I see people giving me funny looks, sometimes even speaking hurtful things about me but I am learning to take up my weapon of praise anyway. When I feel the enemy attacking me, out comes my head phones and the praise begins. Nehemiah 8:10 says that the joy of the Lord is our strength. Let us put on our garment of praise and usher in the joy of the Lord and begin to live in the victory that has been promised to us.










Categories: Encouragement, Kathy's Kitchen, Naomi's Daughters

0

/