Shopping Cart
Your Cart is Empty
There was an error with PayPal
Click here to try again
Thank you for your business!
You should be receiving an order confirmation from Paypal shortly.
Exit Shopping Cart
| | |
| --- | --- |
| Posted on January 27, 2014 at 3:35 PM | |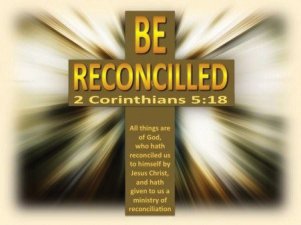 On this past cyber service of Dying To Be Married with Winston and Sondra Lewis, we continued with the series,  "Be Reconciled: Restoring True Balance". This blog serves the purpose of wrapping up this series; it also serves as a way to keep the conversation rolling, This latest episode really only scratched the surface of a subject which deserved more time and attention. For those of you who have already listened, you may have already observed why we weren't able to delve deeper into the subject at hand (celebrating and recognizing my wife's birthday) of which I can't apologize.
As we reviewed the definition of reconciliation (or reconcile), which is, "to restore to friendship or harmony ", we highlighted one of the other definitions for the word, in particular, "to check (a financial account) against another for accuracy". We looked at the latter definition making the comparison of financial accounts with our accountability in our relationships. As the Lord did on various occasions when using parables of everyday occurrences, we made the comparison of how we reconcile our financial accounts to that of our relationships. This is where we had to leave the conversation due to our time constraints, but this medium  allows us to continue it, in order to further expound on these matters. On the broadcast, we made comparisons of how the results are similar when one mate is withdrawing more from the account (relationship) than is being deposited. Moreover, the discrepancies and ultimately irreconcilability that occurs when both mates are operating from two different budgets (agendas). 
Using the passage, in Proverbs 11:1 which states, "A false balance is abomination to the LORD: but a just weight is his delight", we established how it is the Lord's desire for us to establish and maintain "true" balance in our relationships. Fret not if you and your mate have found yourselves out of balance, because in  the next installment of this blog we will take a further look at how this disharmony and imbalance can be reconciled.
Categories: Dying to be Married - Broadcast
/