Shopping Cart
Your Cart is Empty
There was an error with PayPal
Click here to try again
Thank you for your business!
You should be receiving an order confirmation from Paypal shortly.
Exit Shopping Cart
| | |
| --- | --- |
| Posted on July 6, 2013 at 1:36 PM | |

Deu 30:19  "I call heaven and earth as witnesses today against you, [that] I have set before you life and death, blessing and cursing; therefore choose life, that both you and your descendants may live;"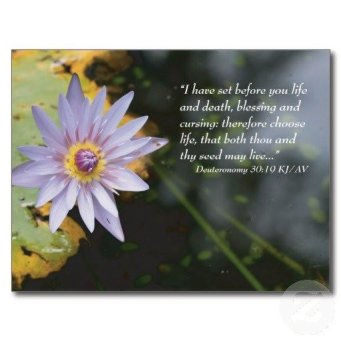 Our lives are a culmination of the choices we've made.  When faced with a challenge, we can choose to speak life into them or to speak words of defeat (death).  God empowered us with the ability that no other creature on earth has and that is the power of Choice!
Choices produce consequences and consequences will produce the fruit of the choice that was made.  If we want to change the course of our lives, we must begin to change the way we think.  
One description of insanity is to continue doing what you've always done but expecting different results.  You will never change your environment until you change what you do.  You must come out of the comfort zone of bad decisions and learned behaviours in order to change the direction of your life.
Rom 12:2  "And do not be conformed to this world, but be transformed by the renewing of your mind, that you may prove what [is] that good and acceptable and perfect will of God."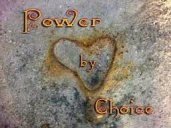 Our minds have to be renewed daily by  The Word of God!  We must "choose" to reprogram our thoughts and guard our hearts.  We must be radical in what we allow or don't allow into our spirits, for out of the abundance of our heart are our thoughts formed and choices are made.  So with the information we have, we will make choices that will produce fruit of either life or death.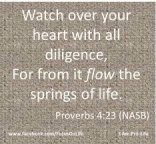 Pro 4:23  Keep your heart with all diligence, For out of it [spring] the issues of life.
                                                                                                                            When we purpose to make decisions that produce life, we become empowered by the Holy Spirit (who is the action of God) to accelerate our change.  We are fully equipped to do exceedingly, abundantly above all that we can ever ask or think according to the
power
that works in us.  
Eph 3:20
This is what fuels us and allows us to shift into another  dimension.  Our choices possess the power to propel us into destiny!  Choices possess the power to change the atmosphere in which we live. 
When we come into agreement with the Word of God, the choices we make are "Powerful!"  According to 
Mat 18:19  "Again I say [fn] to you that if two of you agree on earth concerning anything that they ask, it will be done for them by My Father in heaven."
Today, you can power shift the direction of your life through"Power Choices!"  Start today and allow God's word to direct your thoughts, your words and the choices you make.  Believe it!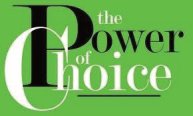 Categories: A Word A Day:Rx For Life, Dying to be Married - Broadcast, Encouragement, Good news Exclusive, Kingdom Foundational Truths, Monday Morning Pew, Naomi's Daughters, Power Shift, Prayer request

0

/