Shopping Cart
Your Cart is Empty
There was an error with PayPal
Click here to try again
Thank you for your business!
You should be receiving an order confirmation from Paypal shortly.
Exit Shopping Cart
| | |
| --- | --- |
| Posted on March 13, 2013 at 9:56 AM | |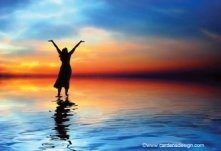 Gal 6:9  "And let us not grow weary while doing good, for in due season we shall reap if we do not lose heart."
When one has gone through a season in which their well doing was not enough to save the relationship, one can easily lose heart.  But we must always remember that as God's children, nothing we have been through is ever wasted.  
Rom 8:28 "And we know that all things work together for good to those who love God, to those who are the called according to [His] purpose."
God remains faithful to his word.  And when we put our trust and confidence in him, (His ways, His timing and His purpose) we will always reap from that in which we have sown in good works.  
Gal 6:7  "Do not be deceived, God is not mocked; for whatever a man sows, that he will also reap."
This is especially important to remember in relationships.  Knowing first and foremost that God loves you.  And that he has nothing but good planned for you.  The expectation that he who has also begun a good work in you is faithful to bring it to completion (Phil. 1:6) , should bring us comfort when he does bring that person into our lives who completes His purpose. 
Remember that as you remained obedient to God's word, endured what you went through and even acknowledged your part in that failed relationship, God has accounted that all to your future. You were sowing toward where you were going.
As with any seed, it must first be planted, watered and then it grows into whatever it is.  God gave you the word when you were being mistreated.  You held on to that word and it got you through.  You kept on doing what you knew to do even when the right thing wasn't being done to you.
You kept God's word in your heart and continued to water the seed that was planted:
Phl 4:13  I can do all things through Christ  who strengthens me.
2Ti 2:3  You therefore must endure hardship as a good soldier of Jesus Christ.
Psa 37:3  Trust in the LORD, and do good; Dwell in the land, and feed on His faithfulness.

Psa 37:4  Delight yourself also in the LORD, And He shall give you the desires of your heart.

Psa 37:5  Commit your way to the LORD, Trust also in Him, And He shall bring [it] to pass.
Now the Lord has brought you to the place of reaching "the desires of your heart".  The grace you once had for enduring what you went through is no longer needed.  You now have a new level of grace to glean what you've learned from that pass experience and continue in the  good works you've sown into your "purpose" account.
Remember, continue to trust in God.  Continue to do good.  He will continue to give you the grace you need to reap your reward.  Believe it!!!
Categories: Dying to be Married - Broadcast, Encouragement, Naomi's Daughters
/