Shopping Cart
Your Cart is Empty
There was an error with PayPal
Click here to try again
Thank you for your business!
You should be receiving an order confirmation from Paypal shortly.
Exit Shopping Cart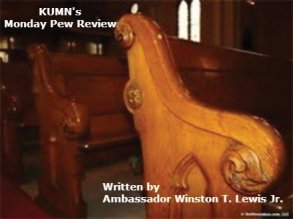 Blessed Monday to all. Praying that you all had a blessed weekend. It was quite an eventful one for us at
Kingdom United Ministries Network
. Although this past weekend feature a rare 5th Saturday, where there weren't any of the usual Saturday morning cyber services, there is much that can be updated on the spiritual front. Due diligence must also be given for the summation of the previous series,
"Formulas for Resolutions"
.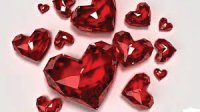 First, Sondra and I recognized and celebrated our 23rd wedding anniversary. By exclaiming,
'To GOD be the glory'
, I don't mean to sound trite or sound cliche, but we have literally and even more so spiritually, mean this in all truth. Had it not been for the Lord on our side, we would
not
 have been. Yet, by His grace, we have made it this far with plans to fulfill the ultimate vow: 'til death do we part'. You can see the video that Ambassador Sondra (sounding official for a reason) put together of us over the years. Only because she went through the trouble will I relent to exposing these old pictures, so just click on  the video below: 
On DTBM -
Dying To Be Married With Winston And Sondra Lewis
, we began a new series for the month of February, "Levels Of Love". In this series, we will examine the four levels of love as categorized by the Greek interpretations of love, which include
Eros, Phileo, Storge and Agape
. This past cyber-service we focused on Eros, the shallowest level of love, and determined whether or not this level of love which indicates the "erotic" or physical attraction that we have for one another, should even be considered in the conversation with the other three, deeper and more intense levels of love. Go to 
DTBM: The Levels of Love
Finally, stay tuned for the upcoming blog, Midweek Meditations later this week for the summation of the previous series "Formulas For Resolutions". After all there is always something left on the table. This begs us to ask: 'What's in your pew?"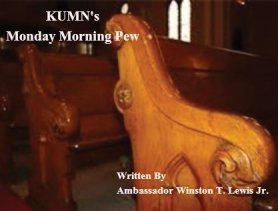 Blessed Monday Morning to all! This entry continues to report the happenings and proceedings of what occurred over the weekend in my swatch of Christiandom under the covering of Kingdom United Ministries Network. It is also an opportunity to recognize a King. Then, last but not least the invitation goes out for you to share what you've gained this past weekend during your spiritual trek.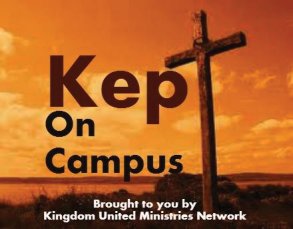 As this past Saturday, January 17, 2015, marked the third of the weekend of the month which features Kept on Campus with Ambassadors Winston III and Quinton Lewis. This cyberservice featured their addressing "Never Ending Beginnings". They took the opportunity to reflect and project on this past year, then forecast the upcoming year and how to approach it. The program featured their usual Campus Quiz which provoked a few listeners to respond. It can't be stressed enough how important it is to have young, and yes, black men representing Christ and positivity on College campuses. In a climate with so many distractions , yet with so much pressure to succeed, it is a high priority to support these young students at such a critical juncture in their lives. They not only represent their race, gender and faith but of a generation who are searching to know who they truly are. This search includes every other demographic included to describe our souls.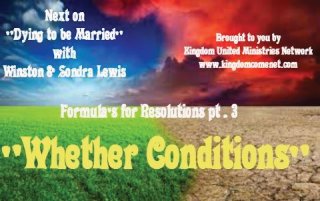 Sunday evening featured KUMN's flagship cyberservice, Dying To Be Married with Winston and Sondra Lewis. Ambassador Sondra and I continued with the series, "Formulas for Resolutions" while presenting the subject of "Whether Conditions". This cyberservice featured an exhortation which took the opportunity to distinguish the weather forecast versus a "whether forecast", while offering the admonition to heed the information that forecasting provides - preparation. The main focus of the broadcast was to examine the implementing of formulas for keeping and maintaining resolutions, which  included a synopsis of formulas established by conditional statements marked by "if" and "then". These types of statements are the basis of how our mentalities are shaped, for example, "If I do this, then this will happen". Such conditions and the recognition (or the lack of recognition thereof) go undetected or under appreciated. Yet these condition play a vital role in how successful one will be, or not, in their endeavors.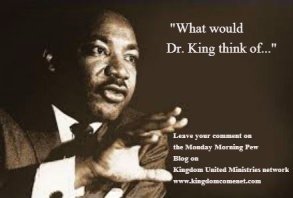 As Jesus Christ is the King of Kings, one of those kings to be recognized is Dr. Martin Luther King, Jr. As is the tradition, many  usually recognize the inspiring speeches and view the marches that he led. There is also a segment which asks the question to those who will recognize this moment by asking the questions, "What would Dr. King think of..." fill in the rest with what ever current event that has to do with civil rights, anything from the Michael Brown incident to the Eric Garner incident to the differentiation in the  handling of the Ebola virus, when Americans get the latest medication and the utmost health care contrasted with the lack of care and the thousands of Africans dying daily of the disease. There are even more nobler movements like programs which inspire people to volunteer to support and participate in some sort of service in their community. What I feel should really be an issue of focus for this time, would be how we can continue the legacy, everyday, that has already been established and how we can cause this legacy to evolve to an even higher and more productive one.
These are just a few  instance that affected my spirit this weekend, now, 'What's in your pew?'
Welcome to the revised Monday Morning Pew. This blog is established to review the events of spiritual happenings that occurred over the weekend in The Kingdom of our Lord and Savior Jesus Christ, beginning with Kingdom United Ministries Network. It also serves as an opportunity to testify of the the enlightenment, encouragement and edification  that you may have served or received this past weekend. Surely, if it was something good for you, it can also enrich someone else's life, after all, isn't that what the gospel is all about? Therefore, feel free to share!
On Saturday, January 10, 2015, Kingdom Foundational Truths continued with Kingdom Foundational Truth #3: the Holy Spirit, The Comforter and The Convictor. This episode featured the new format of expanded voices. This is where every believer has the opportunity to participate in the conversation concerning this basic Christian Foundational Truth. May it be clear, the cyber service in essence, is symbolic of a show of solidarity for those who believe in supporting and promoting unity in Christ's Kingdom. By participating, by voice or by attendance (clicking on the link to the website, live or archived) you are showing that you believe in Christ's vision of unity for His Kingdom.
The cyberservice itself featured the voices of Ambassadors Linda Moriah, Imani Lewis, Clinton Lewis and Quinton Lewis with  myself and Ambassador Sondra Lewis hosting. One very interesting point established was by Ambassador Linda when she spoke of how the Holy Spirit's extensive knowledge, of which every believer has access, is far more exhaustive than Google or the CIA! It must also be noted that though we who have been on this trek of faith for some time know these things second nature, to some, it may be brand new. We can't take for granted that every one knows this gospel, thereby the clarion call continues to resound. Another key point highlighted was when Ambassador Quinton spoke of the conviction aspect of the Holy Spirit. This is significant, due to the fact that this a component that his peers seem to lack more and more. This convicting power of the Holy Spirit can't be overlooked, because it is that power which can keep our youth from many of the incidents we decry when viewing news headlines of how so many youth are being exploited either due to their own volition or by perpetrators and predators which are all too pervasive in our communities.
On Dying To Be Married, we continued with the series Formulas For Resolutions, focusing on the aspect of how significant it is in considering the importance and potency of our own words as it pertains to being successful in achieving the resolutions we make. It was stated how the enemy would have us defeat our own selves (one of the most successful weapons used to deter humans), by cancelling out our declarations of resolution by finishing the sentence with 'how soon the resolution will be forgotten'. As it pertained to the platform of DTBM's focus, relationships, a significant point was made concerning the impact that our words have on our mates. Are you speaking words of construction or destruction? Note to ourselves: we have the power to change our situations for the better and the answer, check - solution, check-resolution, is right under our noses. So let the soul check stand.
So, what moved you spiritually this weekend? Let us know, "What's in your pew"?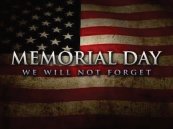 Blessed Memorial Day
to all those recognizing such a day. As it is our way to celebrate life at Kingdom United ministries Network, we will take the time to recognize, appreciate and give rousing support to all those troops who are serving and have served in the military. We took a moment on the most recent episode of "Dying to Be Married With Winston and Sondra Lewis" (click on
Mayday, Mayday! PG Suggested: Parents just don't understand
in case you missed it)  during the Exhortation segment. We also took our appreciation and recognition to the next level by taking a moment to also recognize soldiers in the Army of the Lord, standing on the passage found in
Hebrews 12:1
which states,
"Wherefore seeing we also are compassed about with so great a cloud of witnesses, let us lay aside every weight, and the sin which doth so easily beset us, and let us run with patience the race that is set before us"
. This passage reminds us as well as encourages us that because we have had such great examples of soldiers of the faith like Abel and Abraham and others of that ilk, that we should likewise stay focused in our faith to achieve and obtain similar fruitful results, if we make sure to avoid the distractions that are ever around us.  On Saturday, 5-24-14, Kingdom Kids Network (in case you missed it, click on
KKN: Reality Check!
) set and example of of this very focus when they tackled the subject, "Reality Check". this shows how uniform the message is as this is just what is necessary in order to remain focused on our goal of being included in that great cloud of witnesses ourselves. What was some good word that you experienced this past weekend?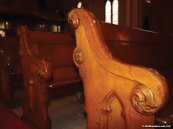 This is a new entry for this website that will prayerfully be consistent as well as uplifting, inspiring and motivating, which is always our intention at
Kingdom United Ministries Network
. This is the beginning of the second quarter of the year and with the onset of spring, we have several other new launches that are budding and soon to be in bloom that we pray will be as uplifting as well. along with this weekly post, stay tuned for
"The Late-Bloomers Journal"
- a collection of inspiring accounts of testimonials and chronicled experiences of people who have began projects, procedures, or other processes which they started later in life. Also,
"Silver Linings"
- a column which will attempt to find the silver lining in every troubling situation for those struggling to endure the trials and tribulation that shall occur in life. 
Concerning "The NEW Pew Review", this offering is a review of what occurred in the services or inspirational gatherings that we participated in this past weekend. We will give a review of the services and cber services that we experienced, then welcome your testimonies and experiences or responses to what has been rendered. this is just another way that we may come and reason together, after all, we are all about 'uniting, promoting and expanding the Kingdom of our Lord and savior Jesus Christ for the sake of souls. 
On Saturday, 5-10-14,
Kingdom Foundational Truths
continued the conversation of Angels: Holy and Unholy with a subtext of strategies and Strong holds In case you missed it, here's the link
http://www.blogtalkradio.com/kumn/2014/05/10/kft-11-angels-holy-and-unholy-part-2-strategies-and-strongholds
 . We took a look at what is the root of these great atrocities that have occurred and are yet occurring in the world as well as our communities, homes and hearts.
James 4:1
(though not referred to in the aforementioned program) is most appropriate stating, "From whence 
come
 wars and fightings among you? 
come they
 not hence, 
even
 of your lusts that war in your members?" We also took advantage of the moment to give a shout out to Mothers, carrying the baton to be passed to the weekly Sunday evening main stay of
"Dying To Be Married with Winston and Sondra Lewis"
.
With these things said, what was your most memorable inspirational moment this past weekend, Ye who be of faith?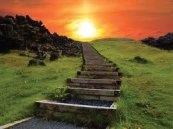 "But seek first the Kingdom of God and His Righteousness and all these things shall be added unto you"  Matt. 6:33
"Jesus wept, Amen!"  With no real reverence, hunger, or expectation, but rather a "There God, I prayed" kind of prayer.  Many of us would never pray this kind of prayer intentionally.  And yet, in the business of the day and the demands of life (High stress jobs, family demands, social functions, school, Church offices and events, household projects, relationships and the list goes on) We can easily find ourselves drifting into a state of praying out of obligation rather than admiration.  
Have you ever had the kind of morning where  Dred was sitting beside the bed after  Anxiety sounded the alarm?  Worry had laid out your clothes while Fret hurried you along.  Peace gently tapped you on the shoulder while Wisdom spoke "Before you leave, talk to me.  I have something I'd like to say."  But because Rush pounded on your bedroom door, you spoke a few lines of "Thank you Father for all you have done and please help me get through the day, Amen" kind of prayer?  All the while fearful of what you would have to face.
As the day goes on, nothing seems to be going quite right:  Your favorite cup somehow now has a leak.  You can't find your keys, you missed the bus or had a flat tire.  You were late for work  got a call from the school that one of the kids is sick and has to come home and this is just within the first 3 hours of your day.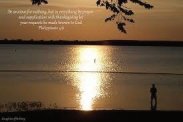 Phl 4:6  Be anxious for nothing, but in everything by prayer and supplication, with thanksgiving, let your requests be made known to God;                                                
If we are not careful, the cares of life can frustrate the quality of our lives.  Prayer is an essential part of our existence.  It is a "Must!"  Prayer is our lifeline to God our Father and without it, we are like a person with a breathing disorder functioning on small percentage of air.  
God is wanting to shift us from a place of simply  "existing" to "Abundant Life."   He desires to move us out of this place of dysfunctional normalcy into another realm of living where our normal routine is one of Power and  Strength.  And he wants to do it  speedily!  This is known as a "Paradigm shift" And God wants us to not only shift, but to be Divinely shifted.   In order to do this, we must change what we do by changing the way we think.  And as a Believer in Christ, our first priority has to be "Prayer!"
Are you ready for a change?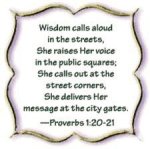 Are you tired of simply existing?  Well the good news is, There is a Divine shifting taking place in the midst of the chaos.  What seems to be present trouble is actually the catalyst God is using you to shift you into another dimension of living.
Pray and seek the Lord.  Wisdom is crying out to you from the street corners of life.  Are you willing to listen?  Now is the time!

Deu 30:19  "I call heaven and earth as witnesses today against you, [that] I have set before you life and death, blessing and cursing; therefore choose life, that both you and your descendants may live;"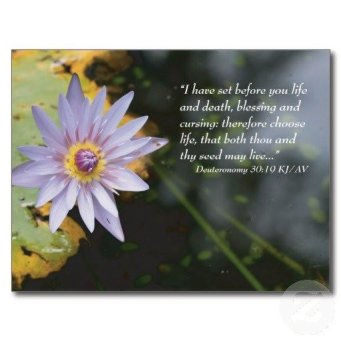 Our lives are a culmination of the choices we've made.  When faced with a challenge, we can choose to speak life into them or to speak words of defeat (death).  God empowered us with the ability that no other creature on earth has and that is the power of Choice!
Choices produce consequences and consequences will produce the fruit of the choice that was made.  If we want to change the course of our lives, we must begin to change the way we think.  
One description of insanity is to continue doing what you've always done but expecting different results.  You will never change your environment until you change what you do.  You must come out of the comfort zone of bad decisions and learned behaviours in order to change the direction of your life.
Rom 12:2  "And do not be conformed to this world, but be transformed by the renewing of your mind, that you may prove what [is] that good and acceptable and perfect will of God."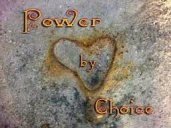 Our minds have to be renewed daily by  The Word of God!  We must "choose" to reprogram our thoughts and guard our hearts.  We must be radical in what we allow or don't allow into our spirits, for out of the abundance of our heart are our thoughts formed and choices are made.  So with the information we have, we will make choices that will produce fruit of either life or death.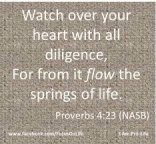 Pro 4:23  Keep your heart with all diligence, For out of it [spring] the issues of life.
                                                                                                                            When we purpose to make decisions that produce life, we become empowered by the Holy Spirit (who is the action of God) to accelerate our change.  We are fully equipped to do exceedingly, abundantly above all that we can ever ask or think according to the
power
that works in us.  
Eph 3:20
This is what fuels us and allows us to shift into another  dimension.  Our choices possess the power to propel us into destiny!  Choices possess the power to change the atmosphere in which we live. 
When we come into agreement with the Word of God, the choices we make are "Powerful!"  According to 
Mat 18:19  "Again I say [fn] to you that if two of you agree on earth concerning anything that they ask, it will be done for them by My Father in heaven."
Today, you can power shift the direction of your life through"Power Choices!"  Start today and allow God's word to direct your thoughts, your words and the choices you make.  Believe it!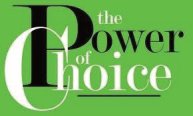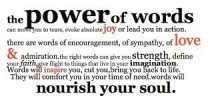 Pro 18:21
 Death and life [are] in the power of the tongue: and they that love it shall eat the fruit thereof.
Our words carry POWER!  With every word we speak., we have the potential to manifest fruit of Life or of Death.  Each originate from a place of faith or fear and our words have the power to produce the fruit of either.  
Because we were created in our Daddy God's Image, he incorporated the God Gene of "Power" by the spoken word: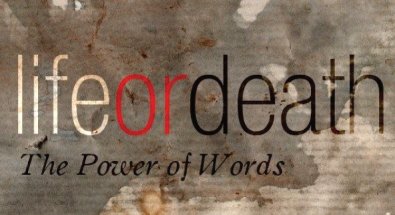 Gen 1:3
 "
And God said
, Let there be light: and there was light."  
Gen 1:6
¶
And God said
, Let there be a firmament in the midst of the waters, and let it divide the waters from the waters.  
And God said
, Let the waters under the heaven be gathered together unto one place, and let the dry [land] appear: and it was so.   
Gen 1:9
¶
And God said,
Let the waters under the heaven be gathered together unto one place, and let the dry [land] appear: and it was so.   
Gen 1:14
¶
And God said,
Let there be lights in the firmament of the heaven to divide the day from the night; and let them be for signs, and for seasons, and for days, and years  
Gen 1:15
 And let them be for lights in the firmament of the heaven to give light upon the earth: and it was so. 
Gen 1:26
¶
And God said, Let us make man in our image, after our likeness
: and let them have dominion over the fish of the sea, and over the fowl of the air, and over the cattle, and over all the earth, and over every creeping thing that creepeth upon the earth."  Therefore, we have the creative ability to form our worlds by the words we speak.  
For every word God said, it began with a thought.  As Awesome and Powerful as God is, it wasn't until He "Said" that it was.  So it is with each of us.  We speak words out of the abundance our thoughts:
Luk 6:45"A good man out of the good treasure of his heart brings forth good; and an evil man out of the evil treasure of his heart [fn] brings forth evil. For out of the abundance of the heart his mouth speaks.
So we find that if our fruit is to be good, we must program our minds (our hearts with "good" things.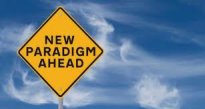 Definition of PARADIGM
3: a philosophical and theoretical framework of a scientific school or discipline within which theories, laws, and generalizations and the experiments performed in support of them are formulated; broadly : a philosophical or theoretical framework of any kind
Every word we speak comes from a place of either Faith or Fear.  One (faith) produces  life and the other (fear) produces death:
Jhn 6:63   "It is the Spirit who gives life; the flesh profits nothing. The words that I speak to you are spirit, and [they] are life.
2Ti 1:7   For God hath not given us the spirit of fear; but of power, and of love, and of a sound mind.
Mat 12:36  "But I say to you that for every idle word men may speak, they will give account of it in the day of judgment.  Mat 12:37  "For by your words you will be justified, and by your words you will be condemned."
So as you look at your life, what do you see?  Is there wholeness of your mind, body and soul?  Do you walk in victory even when things may not go the way you planned?  Do you speak gloom and doom when the report comes back and "they" say there is no winning this battle?  Are you living a life of defeat or in constant condemnation and guilt because of your past?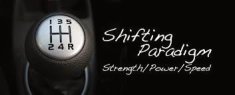 This  may have been your normal day to day existence  and it may be how things have been in the past. But today, the paradigm of your yesterday is over and the mindset of defeat has ended.  It is time to put off the old man who everyday lived, thought and spoke like one without any hope.  The sin and shame of your yesterday has been put off and the Grace &  Mercy of today is in full swell of expectancy.  They are now waiting for you to "Speak" into the atmosphere that "Now" is the time for a
"Power Shift"
!
When you begin to let the mind of Christ be in you, things will move by the power of your word just as your Daddy God has done:  
Hbr 1:3
  "who being the brightness of [His] glory and the express image of His person, and
upholding all things by the word of His power
, when He had by Himself 
[fn]
purged our 
[fn]
 sins, sat down at the right hand of the Majesty on high,"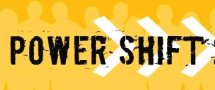 What is this "Power Shifting" you might ask?  
Powershifting
, also known as 
full-throttle shifting
 or 
flat-shifting
, (not to be confused with 
speed-shifting
) is a method of shifting used with 
manual transmissions
 to reduce the time where the driving wheels are not powered. Unlike a normal gearchange, in a powershift the driver does not let off the accelerator (unlike 
speed-shifting
, where the throttle is let off very quick, simultaneously depressing the clutch and shifting into the next gear, rapidly). The 
clutch
 is briefly depressed while the shift lever is rapidly shifted into a higher gear, keeping the engine in its 
power band
. This helps the car accelerate faster, but increases the wear on the clutch and the transmission beyond normal levels and shortens the expected life of these components. (Wikipedia)
As you can see, in this form of racing it's a term used when the car is in full throttle motion and at a high rate of speed, shifts into another gear without decreasing the momentum.  In other words, You may have been speaking death into your life for years without even thinking about it, it became a way of life (natural to you).  However, now that you know the truth, with the same momentum you spoke the negative things, you will begin to speak Life and because your words are powered by the Spirit of the Living God, you will experience such a paradigm shift, that you will not lose ground, you will be Accelerated into Abundancy!
It is time for us to begin to think, speak and walk in Abundant Life!  Cast out all Fear!  Walk and embrace the power of Faith!  Now is the time to speak "Life" and transform your world with a "Power Shift!"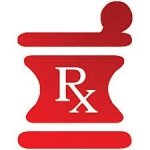 3Jo 1:2    "Beloved, I wish above all things that thou mayest prosper and be in health, even as thy soul prospereth."
As the heartfelt words of  one who knew all to well that prosperity is not simply the abundance of currency as some might think.  However, that true prosperity is found in the quality of life itself and incorporates the total man: mind, body and soul.  And that this particular life (Zoe) is found in Christ.  
Jhn 10:10  "The thief cometh not, but for to steal, and to kill, and to destroy: I am come that they might have life, and that they might have [it] more abundantly."
Over the years, I've spoken with those who have been hurt and broken as a result of relationships, illnesses, finances etc. and many have been brothers and sisters in Christ.  I recently pulled out a small  pocket book that had been given to me several years ago by a dear sister entitled "Rx: Prescriptions for Life" that I'd forgotten about.   However, it really ministered to my soul.  Surely, the Word of God is the best Medicine for Life:  
Psa 107:20   "He sent his word, and healed them, and delivered [them] from their destructions."
Mat 4:4   But He answered and said,"It is written, Man shall not live by bread alone, but by every word that proceedeth out of the mouth of God." 
So as I sought a word of peace and healing and realizing that when you don't have anything else to give to someone who may come to you in an hour of need except the Word of God, that you have all you need.  I realized this would not be a one verse, two points and a prayer event.  However, it would be a process.  As with most healing, they occur over a period of  time.  And while physically recovering from an injury or medical condition, may require some  therapy or consist of medication prescribed by your physician, The word of God taken in daily doses, will not only heal us in places we hurt that cannot be seen, but manifest in every area of our life.  
Well our Great Physician is Jesus!  He alone can heal us with a dose of His word and a touch of His Spirit.  He doesn't "practice" medicine, He "Is" The Medicine.  And reading and meditating on His word for all of day to day life issues as prescribed by him, will not only heal, but make us "Whole".  
It is His desire that we prosper in all areas of our lives: 
In our souls: 
Mat 11:29  "Take my yoke upon you, and learn of me; for I am meek and lowly in heart: and ye shall find rest unto your souls."
In our minds:
Isa 26:3     "You will keep [him] in perfect peace, [Whose] mind [is] stayed [on You], Because he trusts in You."
In our Bodies:
3Jo 1:2 Beloved, I wish above all things that thou mayest prosper and be in health, even as thy soul prospereth.
In our Relationships:
Hbr 12:14 Follow peace with all [men], and holiness, without which no man shall see the Lord:
In our Finances:
1Ti 6:17  ¶Charge them that are rich in this world, that they be not highminded, nor trust in uncertain riches, but in the living God, who giveth us richly all things to enjoy;
1Ti 6:18  That they do good, that they be rich in good works, ready to distribute, willing to communicate;
Our Father God want's His children to live life with a Kingdom mentality where we walk in wisdom and power.  Redeeming the time and maximizing our resources.  We have a job to do and we cannot do it sick and broken no matter what part of our life is ailing.  We must seek to be made whole that we may reach out to aid in the healing of others by our testimonies.
Rev 12:11   And they overcame him by the blood of the Lamb, and by the word of their testimony; and they loved not their lives unto the death.
So over the next few weeks, as I am fed daily doses of God's word, I too will share with those who may need the some encouragement, guidance and motivation to be made whole in Him.  He will heal in every place that hurts.  You have the power within to move past where you are right now.  Decide to Be Healed and to Be Made Whole!  This is your daily dose for the day!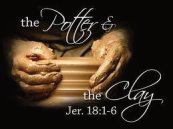 "Arise, and go down to the potter's house, and there I will cause thee to hear my words.  Then I went down to the potter's house, and, behold, he wrought a work on the wheels.  And the vessel that he made of clay was marred in the hand of the potter: so he made it again another vessel, as seemed good to the potter to make [it]."(Jer 18:2-4)
Have you ever felt as though your life was spinning out of control?  Your day to day existence was an endless cycle of pain, trouble & turmoil?  You cry out to God but it seems as though Heaven has shut it's doors, disconnected the phone and the only voice you hear is that of a pre-recorded voice message inside your head  " I am not available to take your call right now.  Please leave your name, the nature of your call and someone will get back with you as soon as possible?"  BEEP!!!  
No matter what we face in our lives or how we may feel, GOD has not forgotten us!  He knows the plans He has for our lives & His plans are GOOD!  (Jer.  29:11)  He has created us on purpose & for a purpose!!!  He makes no mistakes.  Even though our lives can  get turbulent & sometime seem out of our control, we are never out of His.  
Isn't it something that the vessel the Potter was molding (although marred) never left his hands?  So it is as the Master Potter molds  & forms us on the wheels of life.  There will be storms (Mat 7:24-27).  There will be trouble (Job 14:1).  We will experience loss & we will experience pain.  But we can rest with a blessed assurance that the  Master will use it all for the purpose He has created us (Ro. 8:28).
Up until now, you may have felt as though you have been marred beyond recognition.  You may feel as though there is nothing left in you that He could possibly use;  The marriage you once  hoped  for, is now a mere memory.  The person you see in the mirror  is a painful reminder of what you "used" to be.  The tides of life have taken a course far different than any you would've ever imagined.  The report from the Dr. may say "it's only a matter of time",   BUT GOD!!!
"And the vessel that he made of clay was marred in the hand of the potter: so he made it again another vessel, as seemed good to the potter to make [it]."   The potter's Clay  in this text is compiled of soil & water.  Two elements that when used together in just the right amounts, are mold-able & pliable.  Even when the object being formed is not perfect or becomes "marred", In the hands of a skilled potter, can still be formed into the treasured vessel of beauty in which is was intended(2 Cor. 4:7 ).  
The Word of God is synonymous with "water" (Eph5:26) as man is synonymous with "dust" (Gen 2:7)  As when God formed Adam from the dust of the ground and formed him into Man.  He spoke of His desired creation when He said "Let Us make Man in Our Image..."  (Gen 1:26) and it was so.  By God's word are we created & and this from the foundation of the earth.  You are no mistake neither are you an after thought.  You are not what others have labeled and abusively said you are because they couldn't or refused to see the value in you.  Nor are you what you have done.  You were created on Purpose and for a purpose.  God has hidden some things inside of you that are yet to be seen.
Therefore, though you've been marred, broken by words that cut you to the core & left you for dead,  God WILL make you again "ANOTHER" by the Word He has spoken over you!  You will live & not die!  You will recover from that toxic relationship!  You will heal from the loss of that loved one!    The words that once tore you down & killed your spirit will be replaced by words that build you up and give you Life!  His Word will not return unto Him void!  He will take the broken pieces and put them back together again!  He will mold you into a vessel fit for His GOOD pleasure and intended purpose!  Don't fret & don't give up!  You may have felt forsaken & all alone but I am here to proclaim to you "YOU, HAVE NEVER LEFT HIS HANDS!!!"
/