Shopping Cart
Your Cart is Empty
There was an error with PayPal
Click here to try again
Thank you for your business!
You should be receiving an order confirmation from Paypal shortly.
Exit Shopping Cart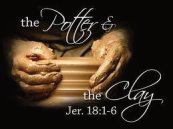 "Arise, and go down to the potter's house, and there I will cause thee to hear my words.  Then I went down to the potter's house, and, behold, he wrought a work on the wheels.  And the vessel that he made of clay was marred in the hand of the potter: so he made it again another vessel, as seemed good to the potter to make [it]."(Jer 18:2-4)
Have you ever felt as though your life was spinning out of control?  Your day to day existence was an endless cycle of pain, trouble & turmoil?  You cry out to God but it seems as though Heaven has shut it's doors, disconnected the phone and the only voice you hear is that of a pre-recorded voice message inside your head  " I am not available to take your call right now.  Please leave your name, the nature of your call and someone will get back with you as soon as possible?"  BEEP!!!  
No matter what we face in our lives or how we may feel, GOD has not forgotten us!  He knows the plans He has for our lives & His plans are GOOD!  (Jer.  29:11)  He has created us on purpose & for a purpose!!!  He makes no mistakes.  Even though our lives can  get turbulent & sometime seem out of our control, we are never out of His.  
Isn't it something that the vessel the Potter was molding (although marred) never left his hands?  So it is as the Master Potter molds  & forms us on the wheels of life.  There will be storms (Mat 7:24-27).  There will be trouble (Job 14:1).  We will experience loss & we will experience pain.  But we can rest with a blessed assurance that the  Master will use it all for the purpose He has created us (Ro. 8:28).
Up until now, you may have felt as though you have been marred beyond recognition.  You may feel as though there is nothing left in you that He could possibly use;  The marriage you once  hoped  for, is now a mere memory.  The person you see in the mirror  is a painful reminder of what you "used" to be.  The tides of life have taken a course far different than any you would've ever imagined.  The report from the Dr. may say "it's only a matter of time",   BUT GOD!!!
"And the vessel that he made of clay was marred in the hand of the potter: so he made it again another vessel, as seemed good to the potter to make [it]."   The potter's Clay  in this text is compiled of soil & water.  Two elements that when used together in just the right amounts, are mold-able & pliable.  Even when the object being formed is not perfect or becomes "marred", In the hands of a skilled potter, can still be formed into the treasured vessel of beauty in which is was intended(2 Cor. 4:7 ).  
The Word of God is synonymous with "water" (Eph5:26) as man is synonymous with "dust" (Gen 2:7)  As when God formed Adam from the dust of the ground and formed him into Man.  He spoke of His desired creation when He said "Let Us make Man in Our Image..."  (Gen 1:26) and it was so.  By God's word are we created & and this from the foundation of the earth.  You are no mistake neither are you an after thought.  You are not what others have labeled and abusively said you are because they couldn't or refused to see the value in you.  Nor are you what you have done.  You were created on Purpose and for a purpose.  God has hidden some things inside of you that are yet to be seen.
Therefore, though you've been marred, broken by words that cut you to the core & left you for dead,  God WILL make you again "ANOTHER" by the Word He has spoken over you!  You will live & not die!  You will recover from that toxic relationship!  You will heal from the loss of that loved one!    The words that once tore you down & killed your spirit will be replaced by words that build you up and give you Life!  His Word will not return unto Him void!  He will take the broken pieces and put them back together again!  He will mold you into a vessel fit for His GOOD pleasure and intended purpose!  Don't fret & don't give up!  You may have felt forsaken & all alone but I am here to proclaim to you "YOU, HAVE NEVER LEFT HIS HANDS!!!"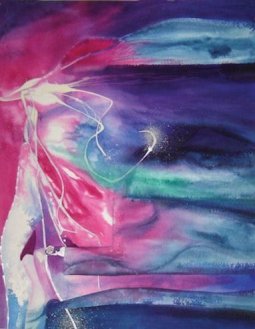 2Cr 12:8  Concerning this thing I pleaded with the Lord three times that it might depart from me.  2Cr 12:9  And He said to me, "My grace is sufficient for you, for My strength is made perfect in weakness." Therefore most gladly I will rather boast in my infirmities, that the power of Christ may rest upon me.  2Cr 12:10  Therefore I take pleasure in infirmities, in reproaches, in needs, in persecutions, in distresses, for Christ's sake. For when I am weak, then I am strong.  
Eph 4:7  ¶But unto every one of us is given grace according to the measure of the gift of Christ.
meas·ure  (mzhr): 17. Music The metric unit between two bars on the staff; a bar.
refrain  n1. (Music, other) a regularly recurring melody, such as the chorus of a song2. a much repeated saying or idea
Saturday afternoon without fail or unless there was a major life event,  I'd put on my hip hugger, elephant leg pants (or whatever the latest fashion they'd be wearing on "The hippest trip in America"  dance show) to be in  character of my favorite Soul Train Dancer "Damita Jo Freeman".  I'd study her every move and practice (every day) the leg lifts and Robotic moves that she was so famous for.  I know, I know I'm dating myself and some may be wondering "what are elephant legs and who is Damita Jo Freeman?"  I will bypass the explanation and simply say one word that you will find quite familiar "Google".
I was a pretty good dancer because I loved to dance (I am not boasting simply stating a fact).  I lived and practiced dancing.  I danced when I was up and danced when I was down.  It was something I was good at and anytime there was a dance competition, I was always up for the challenge.  And can't really remember a time when I entered a contest that I didn't win (Anyone who can is welcome to email me.  As my memory like my dance moves, are not what they used to be).
Dancing solo was easy for me.  I was in control.  Dancing with someone else, was a little more challenging unless they were good dancers as well.  This was especially true in  slow dancing.  I found that many of the guys (as cute as they might have been) lacked rhythm to dance.  And since it was customary for the guy to lead, I would often get frustrated and sometimes find myself trying to lead them  or getting out of step, which would make for a very awkward situation.  
Such was the case at a friends Birthday house-party when one of my favorite slow songs was being played.  A young man asked me to dance with him and although he wouldn't have been the one I wanted to dance with, I'd never waste my favorite song being a wall flower.  His slooooow motion approach (which he obviously took literally) made it difficult for me to follow his lead.  As the song played, it became more and more obvious  that we were dancing to the same song, but the timing was way off.  Somehow, our feet got tangled, I lost my balance and found myself falling backwards (as in slow motion).  We both ended up on the floor in the middle of the crowded room.  Fast forward as some incidents you just want to forget about.  Life is full of humbling experiences and for me this was definitely one of them.
Paul states in 2 Corinthians 12:8 that he'd sought the Lord three times to remove what he considered a thorn in his flesh.  This thorn (as he describes) was sent as a messenger from Satan to buffet or afflict him lest he be exalted above measure.  Paul was astute in the Law yet he had had an unequivocal encounter with Jesus Himself .  He was in constant fellowship with the Lord and had been given revelations of God's grace through Jesus Christ that those who'd literally walked with him didn't have. Most men in his position would've been quite arrogant and some with less of a testimony.  Yet he states that "lest he be exalted above measure by the abundance of revelations" he was given this thorn. (vs. 7) 
Three times!   Paul didn't just ask the Lord, but pleaded with Him to remove this thorn in his flesh. And one that was given him of Satan no less.  One that God allowed and Paul understood the necessity of.   
"For though I might desire to boast, I will not be a fool; for I will speak the truth. But I refrain, lest anyone should think of me above what he sees me [to be] or hears from me".
2Cr 12:6  
It sounds as though if Paul had been a dancer, he may have been enamored among the best.  He was skilled in the mission he was given and had the faith to carry it out.  He was used to fighting through and knew the sacrifice that was required to follow the Leading of the Holy Spirit.  His commitment to "The Call" in which he'd been sent was apparent.  And yet while dancing to the tune of humility where he was partnered with Grace, he sought to stay in control.  
There are times in our lives where the tune of Faith takes on a different tempo than that we've been used to.  It is by faith that we are saved through Grace, and that not of us but it is the gift that God gives to everyone.  This grace (He gives) according to the measure in which it is needed.
Grace has a rhythm all it's own.  And in our lives, it is important that we recognize when Grace is leading and we relinquish control and allow ourselves to be led.   
Grace supplies strength, direction, provision and hope.  It is often disguised in the form of trouble when we've exhausted ourselves beyond our own abilities.  " And He said to me, "My grace is sufficient for you, for My strength is made perfect in weakness." Therefore most gladly I will rather boast in my infirmities, that the power of Christ may rest upon me." @Cor 12:9  
It was Grace that led the Children of Israel through the Wilderness with a cloud by day and a pillar of fire by night.  It was Grace that led Ruth through the field of Boaz and into his heart.  It was Grace that led Abigail with wisdom out of place of dis-grace and into King Davids heart.
Grace will never lead you where God's provision won't keep you.  You must learn to let go of the control button of your life and learn to become one with Grace during the ebb and flow of life's currants.  The tides will rise as the Master Orchestrator crescendos through measures of  intensities in our lives.  
There will be times when you are required to rest.  And although rest is needed and a time to refrain is measured out, we may not be willing or to afraid to take heed.  The Master then may allow a messenger of Satan to buffet us until the measure of grace for that season is over.  And it is during this time we must raise our hands and join with Grace, to follow it's lead.  Resting, moving and synchronizing to the rhythm Grace has come into alignment with.  You may be out of step at first, but listen:  " Your ears shall hear a word behind you, saying, "This [is] the way, walk in it," Whenever you turn to the right hand Or whenever you turn to the left." Is. 30:21   Then, will you learn to dance to the "Rhythm of Grace"
  *
Jer 20:9
"Then I said, I will not make mention of him, nor speak any more in his name. But [his word] was in mine heart as a burning fire shut up in my bones, and I was weary with forbearing, and I could not [stay]."
When the times are the darkest, the pain is the most intense and the temptation to give up hovers over you like a cloak of pending death, to those of us who understand the importance of what this Holiday weekend represents, Something inside rises up!  Something on the inside that says "Be strong and Courageous!  Something that reminds us that unless a seed falls into the ground and dies, it abides alone.  But if it dies, it will bear Much fruit!"  Something on the inside speaks to our spirit and says, "This too, shall pass! Just give me "Three Days"!  Greater is He that abides on the inside of you than he who is in the world."   
Rom 8:11   "But if the Spirit of him that raised up Jesus from the dead dwell in you, he that raised up Christ from the dead shall also quicken your mortal bodies by his Spirit that dwelleth in you."
You gain an inner strength that awakens during adversity, and what might have intimidated you before, becomes bread for you now.  You no longer see your adversary as a threat, but you realize that Somebody greater than you, greater than the giant in front of you and greater than anything that can come against you is really working with YOU!
The sleeping giant inside of you arises and when you open up your mouth, the words you speak are no longer solidifying the situation you find yourself in, but begins to prophesy what echoes from within the heavenly places of your spirit.  Our spirit is now bearing witness with The Holy Spirit and we find that as we make our abode in His word and His Word is abiding in us, we can now speak what He speaks and ask what we will and It is Done!  
We cannot hold back telling of His Goodness!  We cannot refute His tender Mercies and His Loving Kindness toward us!  It is apparent!  His Glory is made known through the adversity that came to destroy us!  He is made bigger in the eyes of those who watched on, those who prayed for you and those who even aided and a bedded in what was suppose to be our demise.  The weapon the enemy used to humiliate, undermine  and crucify us, only served to build the crowd of witnesses so the Glory of God could be seen through the resurrection life of that dead situation.
You've been in a holding pattern in the grave of an old season in your life!  Somewhere within the three days of having borne your cross.  
Jhn 2:19   "Jesus answered and said unto them, Destroy this temple, and in three days I will raise it up."
Just as Jesus' crucifiction seemed to be the end and  death had won,  On the third day, the grave was void of the body of which temporarily occupied it. And just as the winter season takes on a lifeless form,  and Spring announces to the dormancy "it's time to revive and bloom".  Take an assessment of what looks to be dead but God says is "alive"!  Open up your mouth and begin to prophesy!
Eze 37:3 -5  "And he said unto me, Son of man, can these bones live? And I answered, O Lord GOD, thou knowest.  Again he said unto me, Prophesy upon these bones, and say unto them, O ye dry bones, hear the word of the LORD. Thus saith the Lord GOD unto these bones; Behold, I will cause breath to enter into you, and ye shall live:" 
When the Spirit of the Most High is inside of you, you won't be able to resist the urgency to speak "Life" to what God has said is alive!
Remember "Death and Life are in the Power of YOUR tongue"  Eat of the fruit of "Life"!  You are approaching the Third Day!  The Resurrection is inside of you!  This is what it is!!!
This Monday Morning finds us returning to the grind. Dig deep dear friends, grin, bear it, put your best foot forward, don't sweat the small stuff. Please share some good news you've gleaned from this past weekends spiritual enlightenment. My contribution is one of deep reflection. First, My wife and I celebrated our 21st wedding Anniversary (1-31-13). Then after a brush with destruction (see the upcoming Featured Testimony on the Good News Exclusive at the www.kingdomcomenet.com website), reflected on the valuable things in life: GOD, wife, children, friends). Then celebrated a 50th wedding anniversary on Saturday with  well respected relatives,  Pastor and Miss'y Hess of Battle Creek, Mi. Woke up Sunday morning worshipping HARD! Whooped and hollered like I won the Superbowl. My challenge to you all today is, look around to see something you're winning at (hint: you beat death this morning if you're reading this). 
Mar 4:8

 "And other fell on good ground, and did yield fruit that sprang up and increased; and brought forth, some thirty, and some sixty, and some an hundred."




I read an article recently of an organic corn farmer who's  field was located right in the middle of corn country (Nebraska).  This farmers crop (although organically grown)  is surrounded by other genetically modified corn growers.  Corn is an open pollinated crop and because of this, wind and insects can carry pollen from several feet to several miles.  This is extremely harmful for organic crop growers as it's quality is based upon how  GMO (Genetically Modified Organisms) free it is.    Because levels of GMO were found in the crop, it decreased it's value.  The higher the levels, the less he could sell his crop.  And for people who are looking for 100% organic products, this would not do.  So his crops were sold for far less or sat in storage.




"Why are you talking about corn" you might ask?  Well in this parable of the sower and the seed, Jesus gave a parable of a sower sowing seeds and four types of ground the seed sown:  1) The wayside  2) Stony  3) Among Thorns  4) Good Ground

In Mark 4:14-20  Jesus tells his disciples what the parable means:




Mar 4:14

 The sower soweth the word.

Mar 4:15

 And these are they by the way side, where the word is sown; but when they have heard, Satan cometh immediately, and taketh away the word that was sown in their hearts.

Mar 4:16

 And these are they likewise which are sown on stony ground; who, when they have heard the word, immediately receive it with gladness;

Mar 4:17

 And have no root in themselves, and so endure but for a time: afterward, when affliction or persecution ariseth for the word's sake, immediately they are offended.

Mar 4:18

 And these are they which are sown among thorns; such as hear the word,

Mar 4:19

 And the cares of this world, and the deceitfulness of riches, and the lusts of other things entering in, choke the word, and it becometh unfruitful.

Mar 4:20

 And these are they which are sown on good ground; such as hear the word, and receive [it], and bring forth fruit, some thirtyfold, some sixty, and some an hundred.




I don't know about you, but at some point in my life, I have been each of these types of ground.  As much as we want to see the word have fruition in our lives, we often will hear a word, get excited about it and determine "God will meet every one of my needs according to His riches in glory by Christ Jesus!"  And then comes the shut off notice.  You can't see where the money is coming from and begin to fret.  Or you heard a word that nobody could tell you  the Pastor wasn't talking directly to you.  You took it, quoted it for a while, but after the child got sick, they cut back your hours on the job you couldn't make that car payment so they re-possessed it.  And if you hear one more person say to you "Be not weary in well doing for in due season, you shall reap if you faint not" you might just slap them!  




Or you got that position you'd worked so hard for.  You'd believed God when that supervisor did everything in their power to keep you down.  You'd endured the underhanded things the co-workers were doing behind your back.  You didn't find out until you were promoted how much was really going on and how even in spite of it, the Lord had your back.  But now, you can't make it to church because you've got to be at a business meeting.  You stopped attending choir rehearsals because it conflicts with opportunities to network (after all it's not "what you know, but who you know").  Before you served him while quoting things like "I know my redeemer lives and He will vindicate me" but now, you resort to phrases like "The Lord knows my heart" or "You just don't understand".




But there are those times when you are right where you know you should be and everything seems to be lining up.  Almost effortlessly, doors are opening up before you even knock on them.  There is a favor in unlikely places being bestowed upon you that seems almost "Supernatural".  You are in your zone!




This the the ground we all strive to be.  And it is available to us by the grace of God.  It is a fight to get there and as we see in the parable, it's not your money, the job, or anything else the enemy is after.  It is "The Word"!  This is what we must fight to maintain.  The word is what produces increase in our lives.  We cannot let it be contaminated by outside influences and inner contractions.  




There are a lot of genetically modified methods that look like success, but just as the organic farmer must fight to keep his field free from contaminates, so must we.  For what makes our ground good, is that we can hear what God has said, receive it and fight to bring it to fruition.    You've come through too much, seen Him do too much for you to give up now.  You've felt like this before and remember how He came through for you?  You are too close and your season is here!  Don't give up when your deliverance is right on the other side of  this present situation.  Don't make a permanent decision based upon a temporary situation.

Mar 4:9

 And he said unto them, "He that hath ears to hear, let him hear."

Gen 1:1

¶In the beginning God created the heaven and the earth.  For the next several versus, God goes to work:  

Gen 1:3

 And God said, Let there be light: and there was light.  

Gen 1:6

¶And God said, Let there be a firmament in the midst of the waters, and let it divide the waters from the waters.  

Gen 1:9

¶And God said, Let the waters under the heaven be gathered together unto one place, and let the dry [land] appear: and it was so.  

Gen 1:14

¶And God said, Let there be lights in the firmament of the heaven to divide the day from the night; and let them be for signs, and for seasons, and for days, and years:  

Gen 1:20

¶And God said, Let the waters bring forth abundantly the moving creature that hath life, and fowl [that] may fly above the earth in the open firmament of heaven.  

Gen 1:24

¶And God said, Let the earth bring forth the living creature after his kind, cattle, and creeping thing, and beast of the earth after his kind: and it was so.  

Gen 1:26

¶And God said, Let us make man in our image, after our likeness: and let them have dominion over the fish of the sea, and over the fowl of the air, and over the cattle, and over all the earth, and over every creeping thing that creepeth upon the earth."  

Gen 2:2

 And on the seventh day God ended his work which he had made; and he rested on the seventh day from all his work which he had made.  

Gen 2:3

 And God blessed the seventh day, and sanctified it: because that in it he had rested from all his work which God created and made.  So God, without hammer, nails, pots, pans, surgical tools, shovel or spade made the entire world by "Saying so" and it was!  And in creating man, formed him in His own image, to be like him that he would dominate everything in the earth all by the Power of His word.   So why are we not walking in the authority given us?  Could it be that we have not seen Him as we should?   

1Jo 3:2

 Beloved, now are we the sons of God, and it doth not yet appear what we shall be: but we know that, when he shall appear, we shall be like him; for we shall see him as he is."  The answer may be that although we know (or say we do) that He is God, we don't see Him as "God, our Father". 

Jesus said in 

Mat 6:9

 After this manner therefore pray ye: Our Father which art in heaven, Hallowed be thy name.

Mat 6:10

 Thy kingdom come. Thy will be done in earth, as [it is] in heaven.

Mat 6:11

 Give us this day our daily bread.

Mat 6:12

 And forgive us our debts, as we forgive our debtors.

Mat 6:13

 And lead us not into temptation, but deliver us from evil: For thine is the kingdom, and the power, and the glory, for ever. Amen."    As Jesus being the first born of many brothers, (who is also our example) walked in all power and authority did, so are we to do.  We so often look up to our older siblings, seeing that he took full advantage of who he was (The son of God), we should operate in the same authority by speaking our worlds into existence.  

1Jo 3:2

 Beloved, now are we the sons of God, and it doth not yet appear what we shall be: but we know that, when he shall appear, we shall be like him; for we shall see him as he is." 

This Monday is a special time for me and my wife. As much as I invite all to engage in a conversation about what they've gleaned from attending services yesterday, I want to take time to express, reflect then present some encouragement to someone --ANYone, who will dare to be blessed. This special time comes between my dear wife and good-best friend Sondra's birthday (1-26-13) and our 21st wedding anniversary. This is the time of year that I reflect on how real GOD is, due to how HE has kept us together. one of the most significant keys of this longevity is how we've adhered to the Spirit's revelation for us to pray together every day. This unctioning has been key, because it's hard to stay mad at someone you're praying with. If you want to see GOD's grace bound in your lives, dare to take this challenge, then see the results.

0

/