Shopping Cart
Your Cart is Empty
There was an error with PayPal
Click here to try again
Thank you for your business!
You should be receiving an order confirmation from Paypal shortly.
Exit Shopping Cart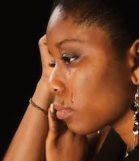 In listening to today's Naomi's daughters broadcast today, Sister Madelyn Bass testified about the loss of her infant son and the feelings of loss that she and her family experienced. She talked about how she was able to see her son and to hold and love him but to never be able to bring him home. Her infant son passed away in the hospital after his birth. She shared how this caused brokenness in her marriage, how her husband's analytical personality needed someone to blame for the loss. How she too looked for an answer to the loss and she turned this need for answers inward causing weight gain and other maladies. This ultimately caused the destruction of her marriage, ending the marriage in divorce.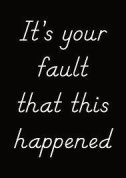 What struck me in that portion of her testimony was that it mirrored my life and marriage a great deal.  How my ex-husband always needed someone to blame for all complications in life. I remember, right after we were married, we had our first daughter and not a lot of money and very little support. The steering column in the car went out while he was on the highway. This caused an accident. I had no idea about what had happened until he returned home. Instead of coming in and telling me what happened, he came in and attacked me. I was to blame for the family's poverty and lack. I was the wife and should be able to step into the gap and meet the needs that he could not. I was 17 years old with a 9 month old and a 2 year old from a previous relationship and I did not know how to balance being a wife and a mother and a "gap stepper" at that time. I wanted to comfort him and mourn for the loss of our only transportation at the time but I did not have the chance. I had to go into high alert and defend myself; emotionally, mentally and yes physically.
He had a habit of not coming home on payday. When he did come home a day or two later, he would be broke, having spent the whole check in drinking and partying. I would then call my Grandfather or my uncle for help with food for me and my infant daughter Nikki. One time in particular comes to mind, he did not come home for a day or so and I was okay with that. This was what he did. But on the particular time the day or two stretched out much longer. We lived in a neighborhood that required the doors to be double bolted. Our door locks could be locked from the outside and without a key to that lock, those inside of the house could not get in or out. Well on this particular occasion, I did not notice that he had bolted that lock from the outside before he went to work on Friday morning. I did not notice that I had been locked in until day 3. The food had run out and I needed to try and get something into the house for me and Nikki. When I found that I had been bolted into the house, I called my Uncle and told him that we were out of food. He brought over bags of groceries that he gave me through the window. He said that he loved me but he did not get involved in marital issues so he would make sure that I did not go hungry but he could not free me from my jail. When the next Friday rolled around, I thought for sure that my husband would feel as though I had been fully and properly disciplined for whatever it was that I had done and that he would return and unlock the doors. Even if he did it in the middle of the night, I believed that he would come home and let me out. Friday came and went, Saturday came and went, but the only knock at the door was my uncle asking if I was well. Sunday morning was my breaking point. I put Nikki down for her morning nap; I climbed out of the window, leaving a stool at the bottom of the window so that I could get back in. I hoped that no one would see me do this and go into the house where my baby was asleep, but I had to do something. I called my grandfather and told him what was going on. He was there within an hour. He took the front door off of the hinges and freed us.  It was another week before he began calling my relatives asking of my whereabouts. I often wonder if he came back to free me or to bury me. After all of that, I still went back to him because he told me that it was partly my fault for making him do that to me. I was partly to blame.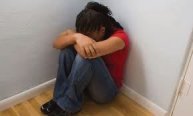 I know the feelings of shame and blame and the damage that they can do to you. My 9 month old is now 32 years old so this recollection was quite a while ago, but I still carry the scars from this and other situations. My ex-husband and his blame were hurtful but not isolated. My mother was an alcoholic and prescription drug addict and turned me and my sister over to relatives soon after our births. She would tell us that she was not equipped to raise us. That we deserved to be raised by someone, anyone other than herself, so we were shuffled around from home to home and in many cases, suffering abuse. I remember my family members telling me and my sister that we should be grateful for anything that we could get because our mother sealed our fate when we were born from her. They told us not to blame them for their callousness and indifference but blame her for our hardships. They did not have the kindness of heart to comfort us and care for us as children deserve; no, they to put us in the place of defending the only mother that we had. I carried the shame of her life choices all of my life. I was familiar with this feeling of shame when I met my husband and the many times that he lobbed all disasters back at me to carry alone, I was accustomed to carrying this shame; equipped in  accepting the responsibility of everyone and anyone.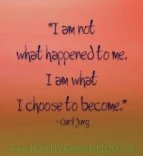 When I say that I still bare the scars, I do. In the workplace, I find myself taking the blame and responsibility for my team my teammates and the company as a whole when we do not meet the company goals or if there was a customer complaint; even if I had nothing to do with the situation. When something is going well at work, I bow out of any recognition and praise. This is my humility, or so I believe.  But as I write this I realize that this is the same pathology that compelled me to defend my mother and to feel the shame for my marriage woes; the responsibility for all and others. This is not a responsibility; this is a curse. This is the enemy trying to stop and block assignments at the very onset. Satan is trying to stop the purpose for my life.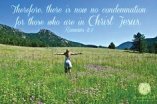 But this was all before Jesus stepped into my life and saved me. I bore the weight of a cross that was not mine; it was the cross of Jesus. It was not my job to bare the cross of my mother's decisions or to carry all of the responsibility of my failed marriage. I did have a role in its failure but it was not my failure alone. I have learned that the fault and the blame and the shame can be laid at the feet of Jesus…and left there.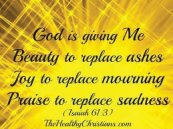 Isaiah 61 is one of my favorite books in the Bible 
because it speaks to me directly. It tells me that I am a strong oak tree, stable and strong, nourished by the Love and the Word of God. It says that God knows my shame and that I have been blamed for things that I could not control and that He has anointed me to prosper, not to fail. He has anointed me with joy not sorrow. And that He will give me beauty for my ashes, and a cloak of praise for my heaviness. I especially love the cloak or robe of praise for the spirit of heaviness. This passage tells me that when I am feeling that heaviness and the need to bare the weight of everyone and everything, that I am to look to the heavens for my help and to begin to open my mouth and praise the Lord for all that He is and for all that he has and will do for me. Sometimes opening my mouth and praising the Lord is difficult. That spirit of heaviness can be awfully heavy at times, so I do not leave my house without a fully loaded MP3 equipped with praise and worship songs and encouraging sermons and services, including Kingdom United Ministries Network broadcasts. When I feel like I am to blame for something that I have no control over, I pull out my weapon, my MP3 , and I begin to praise. I get strange looks sometimes because as you may know, when you praise, it lights a fire in your soul, and out of your soul, your mouth will begin to speak and sing. I find myself singing and praising.  I may be in line at the market.  I see people giving me funny looks, sometimes even speaking hurtful things about me but I am learning to take up my weapon of praise anyway. When I feel the enemy attacking me, out comes my head phones and the praise begins. Nehemiah 8:10 says that the joy of the Lord is our strength. Let us put on our garment of praise and usher in the joy of the Lord and begin to live in the victory that has been promised to us.
You are not blessed with more so that others can do less
By
Kathy Thompson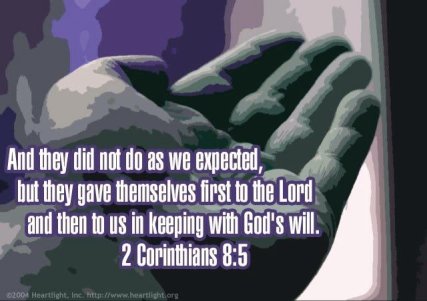 In Second Corinthians the 8 and 9 chapters, Paul spoke to the city of Corinth concerning their giving. Corinth had made an agreement to assist the saints of Judea during their financial trials. The churches of Macedonia, who were facing financial hardships of their own, not only gave but exceeded Paul's expectations in their giving. Paul made the trip to Corinth to remind the Corinthians of their commitment to help Judea in their time of need and to beseech them to honor their pledge of financial support.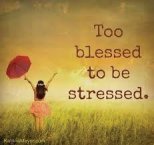 Paul understood the sacrifice and the love that Macedonia had for the Lord and for the church. He, himself faced many trials to deliver the Good News; he faced famine, beatings shipwreck, snake bite, sleeplessness and fasting. He faced insincerity and evil reports. Paul came very near death several times, all to start new churches in the name of our Lord, Jesus Christ. He knew that Macedonia had given themselves first to God then to His will (2 Cor. 8:5). Because the saints in Macedonia were so sold out for the Lord, they offered to give more so that the ministry could go forward. Paul's reply to that request was no, because they were not blessed with more so that others could do less (2 Cor. 8:13).
The Macedonians were blessed not with money but with an overflowing joy that made them rich in generosity (2 Cor. 8: 3). They were always willing to do more. But Paul refused their generous offer. He loved them and told them that he would not allow them to do more; to take on a heavier burden so that other's burden could be less. He advised them that every one should give equally according to what they have, not according to what they feel like giving.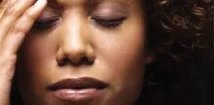 As women of God, 
we often find ourselves in positions where we are called upon to do more. We raise children, we work full time jobs, and we run households while running Fortune 500 companies. We have husbands that we care for, parents and sometimes even grandparents that we are caring for. We work tirelessly, supporting those that we care for. We, as women of God, do so much more with the time and energy that we have and in doing more we give others the opportunity to do less. Studies have shown that giving more than we have while receiving less than required is burn out. One definition for burn out is a physical or mental collapse caused by overwork or stress. This condition leaves you tired, uninterested in daily activity and will manifest many times in physical symptoms such as headaches, and high blood pressure (Merriam-Webster Dictionary "burnout). When this happens, we can't help anyone, not even ourselves.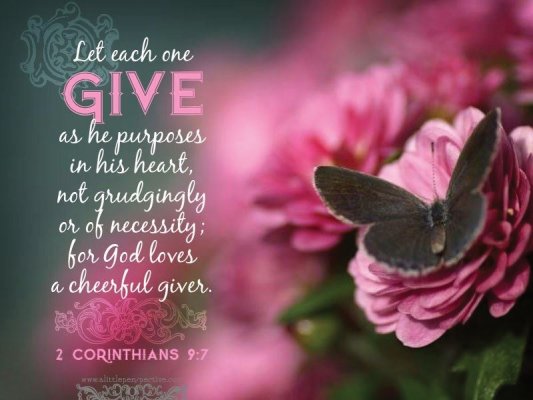 I want to ask my sisters in Christ, not to stop their generosity. The Kingdom will suffer if you cease to sow into it. God loves a cheerful giver and He loves you for your tireless sacrifices (2 Cor. 9: 6-7) what I ask is that we allow others to sow into the kingdom so that they may also reap the 100 fold that The Lord has promised us. We take away their chance to give.
Here are some questions that I pose to you: Is there something that your children can do during the week? Give the older children the chance to help with the church potluck or rummage sale. Ask the younger ones to assist you and the older children in assembling the Christmas baskets. What about our husbands? Maybe he can do the banking this month. This could give you some much need R&R. You can be refreshed and ready for the New Year ahead. One night out of the week, allow him to cook a meal. Now I know that us ladies don't like large portions of meat with every meal, but let's give him a chance to nurture and nourish and bless the family with a juicy burger with all of the trimmings. May times we take away their chance to nurture the family in that way. The next time one of the kids needs something in the middle of the night; let's allow the father's to tend to their needs. I know that as the head of the household, his job is to be the lion at the gate and to roar when he senses trouble, but even the head of the lion pride tends to the young ones at times. My grandmother is getting up there in age but I have learned that when I don't let her bake at least some of the pies at Thanksgiving, she doesn't feel needed. She has no idea how to leave some of the butter in the refrigerator nor will you ever find Splenda in one of her pies, but it does her heart so much good when everyone raves that her sweet potato pies are as good as ever.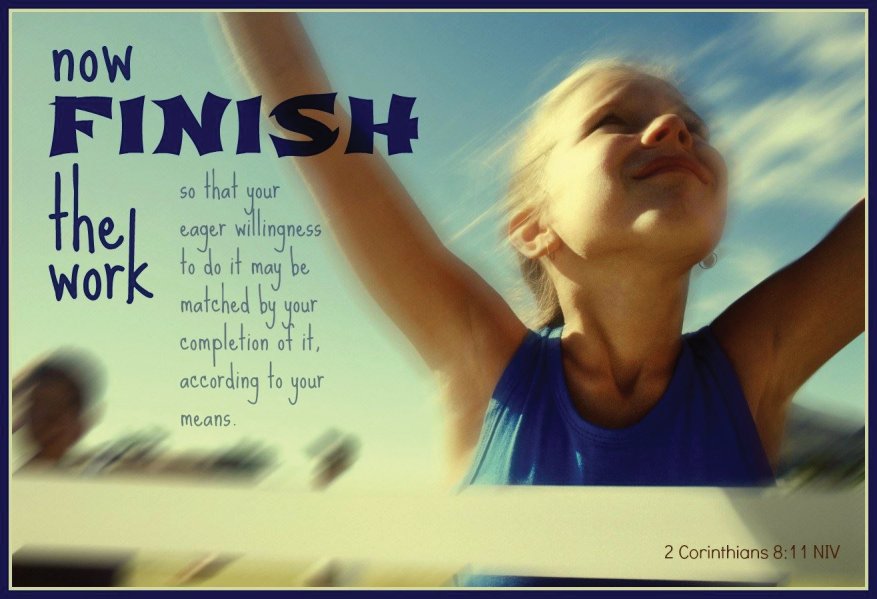 It takes the love of God to be a cheerful giver. Paul said in 2 Corinthians 8: 5 that to be a diligent giver you must give yourselves fully to God and then to his Will. Giving is a grace. It takes faith and faithfulness to be a giver. I would like to impress upon you, ladies, that it also takes grace to be a receiver. To be able to accept what is given to you so that others can be blessed by their giving.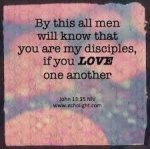 Love is an action word.  And it is through our actions that we demonstrate the love of God.  It is by this love that we show Jesus to others.  We often verbalize our love in various degrees ranging  from the love of ice cream to the love we have for people.  However, when it comes to showing that we are Christ's disciples, it's not about what we say, but what we display.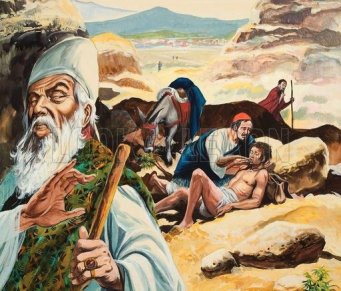 In the 10th chapter of Luke, Jesus gives a parable of a traveler  who is beaten, robbed and left for dead along the side of the rode.  He is passed over by both a Priest and a Levite who go out of their way "not" to help him.  Each could have helped the man.  And at the very least, showed him some compassion.  But a Samaritan comes along, binds up his wounds, carries him to an inn and begins to care for him.    
The following day, he pays for the duration of his anticipated stay and leaves instructions to bill him for any additional costs.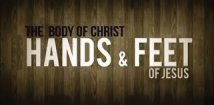 When Jesus said in John 13:35 that others will know that we are his disciples (followers, representatives) by the love we have (display, show, demonstrate) one to another, I wonder who the world sees when it looks at the modern Church?   If we are His hands and His feet, what are we doing with them?  Where are we going?  What does Jesus look like to those we encounter on a daily basis?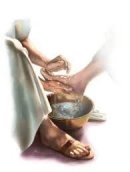 I'm not talking about the checks we write to charities or even the food shelters we may visit and even serve on Holidays.  But what about on our jobs?  In our neighborhoods or even in our homes?  Have we mastered the art of "having " Church and focused less on  "being" the Church?  Has our adoption into the Body of Christ and His goodness and mercies toward us been such that we have  forgotten "why" he called us?  
Sometimes, (if we are not careful) we may get so wrapped up in the blessings of God that we forget just where he has brought us from.  We can even suffer from a "spiritual amnesia" and loose patience with those who are yet where we once were.  What causes us to become apathetic to the afflictions of others?   Have we become a glorified "Club" rather than a outreach of compassion?    
Jhn 13:14 If I then, [your] Lord and Master, have washed your feet; ye also ought to wash one another's feet.
Jesus has given us an example as to what and how we should be in the world.  As the servant is not greater than the Master, we are to be the Jesus that they see:  On our jobs, in the schools, in our homes and  wherever we have been planted.  And what He has delivered us from and brought us through is not to be a worn as a garment of pride, but rather as a testimony of His Glory.
Isa 61:3 To appoint unto them that mourn in Zion, to give unto them beauty for ashes, the oil of joy for mourning, the garment of 
praise for the spirit of heaviness; that they might be called trees of righteousness, the planting of the LORD, that he might be glorified.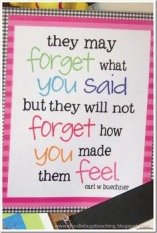 We are of God, and are here to make disciples of all mankind: To the person you see on the street whose eyes are dim of hope.  And the next door neighbor who's struggling to find their way.  What about the co-worker who feels they have nothing more to live for other than showing up?  And at the end of the day, returns to an empty house.  There is the child  who's room is just a couple doors down from you, who longs to see the Jesus you talk about to others but gets placed on the shelf at home.   And even that spouse who shares your bed, but has drifted into simply existing as you've pursued the "Better life" and have forgotten that there is an "Abundant Live" which Christ came to give.   Are they seeing Jesus in you?
 The only way anyone will know that He is real is by our love.   Not the love we talk about but the love we walk about.  We are living examples of who Jesus is by demonstration.  And though some will remember what we say, most will remember what we did.  
So  the next time you see someone in need (on the street, on your job or in your home) or you hear of something that pricks your heart to move into action, don't silence the voice that speaks to your spirit and tells you "You are My hands and feet today!"  Move into the flow of the Spirit within you to make a difference and allow the light of Christ to shine through you.  You never know, you may be the only "Jesus" they see today!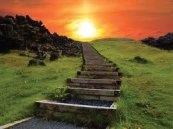 "But seek first the Kingdom of God and His Righteousness and all these things shall be added unto you"  Matt. 6:33
"Jesus wept, Amen!"  With no real reverence, hunger, or expectation, but rather a "There God, I prayed" kind of prayer.  Many of us would never pray this kind of prayer intentionally.  And yet, in the business of the day and the demands of life (High stress jobs, family demands, social functions, school, Church offices and events, household projects, relationships and the list goes on) We can easily find ourselves drifting into a state of praying out of obligation rather than admiration.  
Have you ever had the kind of morning where  Dred was sitting beside the bed after  Anxiety sounded the alarm?  Worry had laid out your clothes while Fret hurried you along.  Peace gently tapped you on the shoulder while Wisdom spoke "Before you leave, talk to me.  I have something I'd like to say."  But because Rush pounded on your bedroom door, you spoke a few lines of "Thank you Father for all you have done and please help me get through the day, Amen" kind of prayer?  All the while fearful of what you would have to face.
As the day goes on, nothing seems to be going quite right:  Your favorite cup somehow now has a leak.  You can't find your keys, you missed the bus or had a flat tire.  You were late for work  got a call from the school that one of the kids is sick and has to come home and this is just within the first 3 hours of your day.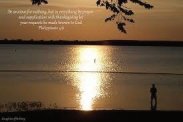 Phl 4:6  Be anxious for nothing, but in everything by prayer and supplication, with thanksgiving, let your requests be made known to God;                                                
If we are not careful, the cares of life can frustrate the quality of our lives.  Prayer is an essential part of our existence.  It is a "Must!"  Prayer is our lifeline to God our Father and without it, we are like a person with a breathing disorder functioning on small percentage of air.  
God is wanting to shift us from a place of simply  "existing" to "Abundant Life."   He desires to move us out of this place of dysfunctional normalcy into another realm of living where our normal routine is one of Power and  Strength.  And he wants to do it  speedily!  This is known as a "Paradigm shift" And God wants us to not only shift, but to be Divinely shifted.   In order to do this, we must change what we do by changing the way we think.  And as a Believer in Christ, our first priority has to be "Prayer!"
Are you ready for a change?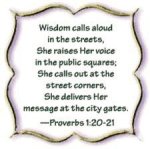 Are you tired of simply existing?  Well the good news is, There is a Divine shifting taking place in the midst of the chaos.  What seems to be present trouble is actually the catalyst God is using you to shift you into another dimension of living.
Pray and seek the Lord.  Wisdom is crying out to you from the street corners of life.  Are you willing to listen?  Now is the time!

Deu 30:19  "I call heaven and earth as witnesses today against you, [that] I have set before you life and death, blessing and cursing; therefore choose life, that both you and your descendants may live;"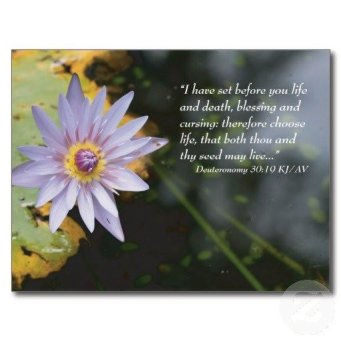 Our lives are a culmination of the choices we've made.  When faced with a challenge, we can choose to speak life into them or to speak words of defeat (death).  God empowered us with the ability that no other creature on earth has and that is the power of Choice!
Choices produce consequences and consequences will produce the fruit of the choice that was made.  If we want to change the course of our lives, we must begin to change the way we think.  
One description of insanity is to continue doing what you've always done but expecting different results.  You will never change your environment until you change what you do.  You must come out of the comfort zone of bad decisions and learned behaviours in order to change the direction of your life.
Rom 12:2  "And do not be conformed to this world, but be transformed by the renewing of your mind, that you may prove what [is] that good and acceptable and perfect will of God."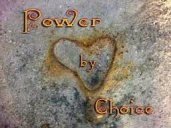 Our minds have to be renewed daily by  The Word of God!  We must "choose" to reprogram our thoughts and guard our hearts.  We must be radical in what we allow or don't allow into our spirits, for out of the abundance of our heart are our thoughts formed and choices are made.  So with the information we have, we will make choices that will produce fruit of either life or death.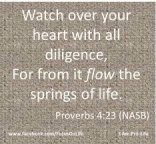 Pro 4:23  Keep your heart with all diligence, For out of it [spring] the issues of life.
                                                                                                                            When we purpose to make decisions that produce life, we become empowered by the Holy Spirit (who is the action of God) to accelerate our change.  We are fully equipped to do exceedingly, abundantly above all that we can ever ask or think according to the
power
that works in us.  
Eph 3:20
This is what fuels us and allows us to shift into another  dimension.  Our choices possess the power to propel us into destiny!  Choices possess the power to change the atmosphere in which we live. 
When we come into agreement with the Word of God, the choices we make are "Powerful!"  According to 
Mat 18:19  "Again I say [fn] to you that if two of you agree on earth concerning anything that they ask, it will be done for them by My Father in heaven."
Today, you can power shift the direction of your life through"Power Choices!"  Start today and allow God's word to direct your thoughts, your words and the choices you make.  Believe it!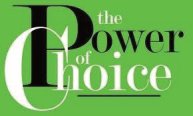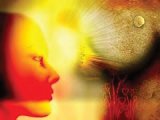 Rom 12:2   "And be not conformed to this world: but be ye transformed by the renewing of your mind, that ye may prove what [is] that good, and acceptable, and perfect, will of God."
Today, we are a product of yesterdays thoughts.  What we become tomorrow, is determined by how we think today.  Imagine that you have the power to change your current situation by how you "think".
Look around you!  Everything you see began with a thought:  That chair, the picture, the table and yes, even the tree and the birds all began with a thought.  
Before the specs were ever drawn and even before God "said" Let there be, it all began with a thought.
It is possible to change the course of the rest of your life by changing the way you begin to see yourself.  What have you thought about where you are in your occupation?  What about in the place you live?  And how have you thought about your spouse?   Do you embrace that they'll never change and you're in a marriage of "one"?
What about the diagnoses that the Dr's said was sure to end in death?  Have you embraced what their word says about you or have you sought the Lord to find out what "He" has said about you?  The answer all begins with how you think.
Our thoughts (like our actions) must be on purpose.  We must develop an attitude that we are who God says we are.  We can do, what God says we can do.  And we can have what God says we can have.  
2Cr 10:5 Casting down imaginations, and every high thing that exalteth itself against the knowledge of God, and bringing into captivity every thought to the obedience of Christ"
This must be our mindset when ushering in the Divine presence of the Lord into our lives that our actions (as well as our thoughts), line up with His.  It is then, we walk in favor and the Power of the Almighty God!  We can then do the impossible, see the invisible and flourish in places that at another time, would have intimidated us.  
Life is meant to bring out the best in a believer so that they that believe not,  will see His glory being manifested.  Let us have the mind of Christ as we walk though it's challenges.  And transform our thinking by indulging our minds with The Word of God and through a relationship with Him.   He desires to show us the beauty and the authority that He has placed inside of us and draw it out.
Phl 4:8¶  "Finally, brethren, whatsoever things are true, whatsoever things [are] honest, whatsoever things [are] just, whatsoever things [are] pure, whatsoever things [are] lovely, whatsoever things [are] of good report; if [there be] any virtue, and if [there be] any praise, think on these things."
In keeping this formula in the forefront of our minds, we can live a "Power life" by beginning our day with "Power Thoughts!"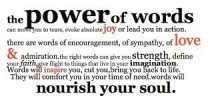 Pro 18:21
 Death and life [are] in the power of the tongue: and they that love it shall eat the fruit thereof.
Our words carry POWER!  With every word we speak., we have the potential to manifest fruit of Life or of Death.  Each originate from a place of faith or fear and our words have the power to produce the fruit of either.  
Because we were created in our Daddy God's Image, he incorporated the God Gene of "Power" by the spoken word: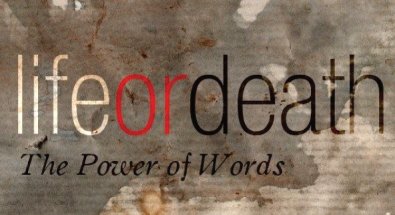 Gen 1:3
 "
And God said
, Let there be light: and there was light."  
Gen 1:6
¶
And God said
, Let there be a firmament in the midst of the waters, and let it divide the waters from the waters.  
And God said
, Let the waters under the heaven be gathered together unto one place, and let the dry [land] appear: and it was so.   
Gen 1:9
¶
And God said,
Let the waters under the heaven be gathered together unto one place, and let the dry [land] appear: and it was so.   
Gen 1:14
¶
And God said,
Let there be lights in the firmament of the heaven to divide the day from the night; and let them be for signs, and for seasons, and for days, and years  
Gen 1:15
 And let them be for lights in the firmament of the heaven to give light upon the earth: and it was so. 
Gen 1:26
¶
And God said, Let us make man in our image, after our likeness
: and let them have dominion over the fish of the sea, and over the fowl of the air, and over the cattle, and over all the earth, and over every creeping thing that creepeth upon the earth."  Therefore, we have the creative ability to form our worlds by the words we speak.  
For every word God said, it began with a thought.  As Awesome and Powerful as God is, it wasn't until He "Said" that it was.  So it is with each of us.  We speak words out of the abundance our thoughts:
Luk 6:45"A good man out of the good treasure of his heart brings forth good; and an evil man out of the evil treasure of his heart [fn] brings forth evil. For out of the abundance of the heart his mouth speaks.
So we find that if our fruit is to be good, we must program our minds (our hearts with "good" things.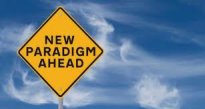 Definition of PARADIGM
3: a philosophical and theoretical framework of a scientific school or discipline within which theories, laws, and generalizations and the experiments performed in support of them are formulated; broadly : a philosophical or theoretical framework of any kind
Every word we speak comes from a place of either Faith or Fear.  One (faith) produces  life and the other (fear) produces death:
Jhn 6:63   "It is the Spirit who gives life; the flesh profits nothing. The words that I speak to you are spirit, and [they] are life.
2Ti 1:7   For God hath not given us the spirit of fear; but of power, and of love, and of a sound mind.
Mat 12:36  "But I say to you that for every idle word men may speak, they will give account of it in the day of judgment.  Mat 12:37  "For by your words you will be justified, and by your words you will be condemned."
So as you look at your life, what do you see?  Is there wholeness of your mind, body and soul?  Do you walk in victory even when things may not go the way you planned?  Do you speak gloom and doom when the report comes back and "they" say there is no winning this battle?  Are you living a life of defeat or in constant condemnation and guilt because of your past?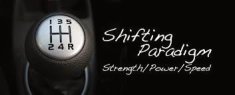 This  may have been your normal day to day existence  and it may be how things have been in the past. But today, the paradigm of your yesterday is over and the mindset of defeat has ended.  It is time to put off the old man who everyday lived, thought and spoke like one without any hope.  The sin and shame of your yesterday has been put off and the Grace &  Mercy of today is in full swell of expectancy.  They are now waiting for you to "Speak" into the atmosphere that "Now" is the time for a
"Power Shift"
!
When you begin to let the mind of Christ be in you, things will move by the power of your word just as your Daddy God has done:  
Hbr 1:3
  "who being the brightness of [His] glory and the express image of His person, and
upholding all things by the word of His power
, when He had by Himself 
[fn]
purged our 
[fn]
 sins, sat down at the right hand of the Majesty on high,"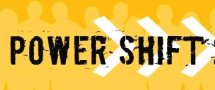 What is this "Power Shifting" you might ask?  
Powershifting
, also known as 
full-throttle shifting
 or 
flat-shifting
, (not to be confused with 
speed-shifting
) is a method of shifting used with 
manual transmissions
 to reduce the time where the driving wheels are not powered. Unlike a normal gearchange, in a powershift the driver does not let off the accelerator (unlike 
speed-shifting
, where the throttle is let off very quick, simultaneously depressing the clutch and shifting into the next gear, rapidly). The 
clutch
 is briefly depressed while the shift lever is rapidly shifted into a higher gear, keeping the engine in its 
power band
. This helps the car accelerate faster, but increases the wear on the clutch and the transmission beyond normal levels and shortens the expected life of these components. (Wikipedia)
As you can see, in this form of racing it's a term used when the car is in full throttle motion and at a high rate of speed, shifts into another gear without decreasing the momentum.  In other words, You may have been speaking death into your life for years without even thinking about it, it became a way of life (natural to you).  However, now that you know the truth, with the same momentum you spoke the negative things, you will begin to speak Life and because your words are powered by the Spirit of the Living God, you will experience such a paradigm shift, that you will not lose ground, you will be Accelerated into Abundancy!
It is time for us to begin to think, speak and walk in Abundant Life!  Cast out all Fear!  Walk and embrace the power of Faith!  Now is the time to speak "Life" and transform your world with a "Power Shift!"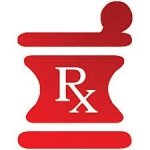 3Jo 1:2    "Beloved, I wish above all things that thou mayest prosper and be in health, even as thy soul prospereth."
As the heartfelt words of  one who knew all to well that prosperity is not simply the abundance of currency as some might think.  However, that true prosperity is found in the quality of life itself and incorporates the total man: mind, body and soul.  And that this particular life (Zoe) is found in Christ.  
Jhn 10:10  "The thief cometh not, but for to steal, and to kill, and to destroy: I am come that they might have life, and that they might have [it] more abundantly."
Over the years, I've spoken with those who have been hurt and broken as a result of relationships, illnesses, finances etc. and many have been brothers and sisters in Christ.  I recently pulled out a small  pocket book that had been given to me several years ago by a dear sister entitled "Rx: Prescriptions for Life" that I'd forgotten about.   However, it really ministered to my soul.  Surely, the Word of God is the best Medicine for Life:  
Psa 107:20   "He sent his word, and healed them, and delivered [them] from their destructions."
Mat 4:4   But He answered and said,"It is written, Man shall not live by bread alone, but by every word that proceedeth out of the mouth of God." 
So as I sought a word of peace and healing and realizing that when you don't have anything else to give to someone who may come to you in an hour of need except the Word of God, that you have all you need.  I realized this would not be a one verse, two points and a prayer event.  However, it would be a process.  As with most healing, they occur over a period of  time.  And while physically recovering from an injury or medical condition, may require some  therapy or consist of medication prescribed by your physician, The word of God taken in daily doses, will not only heal us in places we hurt that cannot be seen, but manifest in every area of our life.  
Well our Great Physician is Jesus!  He alone can heal us with a dose of His word and a touch of His Spirit.  He doesn't "practice" medicine, He "Is" The Medicine.  And reading and meditating on His word for all of day to day life issues as prescribed by him, will not only heal, but make us "Whole".  
It is His desire that we prosper in all areas of our lives: 
In our souls: 
Mat 11:29  "Take my yoke upon you, and learn of me; for I am meek and lowly in heart: and ye shall find rest unto your souls."
In our minds:
Isa 26:3     "You will keep [him] in perfect peace, [Whose] mind [is] stayed [on You], Because he trusts in You."
In our Bodies:
3Jo 1:2 Beloved, I wish above all things that thou mayest prosper and be in health, even as thy soul prospereth.
In our Relationships:
Hbr 12:14 Follow peace with all [men], and holiness, without which no man shall see the Lord:
In our Finances:
1Ti 6:17  ¶Charge them that are rich in this world, that they be not highminded, nor trust in uncertain riches, but in the living God, who giveth us richly all things to enjoy;
1Ti 6:18  That they do good, that they be rich in good works, ready to distribute, willing to communicate;
Our Father God want's His children to live life with a Kingdom mentality where we walk in wisdom and power.  Redeeming the time and maximizing our resources.  We have a job to do and we cannot do it sick and broken no matter what part of our life is ailing.  We must seek to be made whole that we may reach out to aid in the healing of others by our testimonies.
Rev 12:11   And they overcame him by the blood of the Lamb, and by the word of their testimony; and they loved not their lives unto the death.
So over the next few weeks, as I am fed daily doses of God's word, I too will share with those who may need the some encouragement, guidance and motivation to be made whole in Him.  He will heal in every place that hurts.  You have the power within to move past where you are right now.  Decide to Be Healed and to Be Made Whole!  This is your daily dose for the day!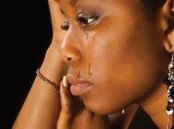 Hbr 10:36-37    'For ye have need of patience, that, after ye have done the will of God, ye might receive the promise.   For yet a little while, and he that shall come will come, and will not tarry."     
The bills keep coming!  The Dr's report is not good.  There are pressures on the job.  Your relationships are strained and your whole life seems to be spiraling out of of control!  You thought you were up for the task of managing your life.  After all God, "YOU Promised"!!!  
You promised to provide my needs according to your riches in Glory by Christ Jesus! Phl 4:19   You promised to heal my body by sending your Word. Psa 107:20  You Promised that you would give me strength and that I could do all things through Christ. Phl 4:13   You promised to be with me and never leave me! Hbr 13:5   You promised God!  Are You listening to my cry?
2Cr 4:8-10   "[We are] troubled on every side, yet not distressed; [we are] perplexed, but not in despair; Persecuted, but not forsaken; cast down, but not destroyed;   Always bearing about in the body the dying of the Lord Jesus, that the life also of Jesus might be made manifest in our body."  What do you do when you feel like what you've done is not enough and your cry for help is not being heard?
There are times in our lives when the storms of life will send us reeling through the torrents of the sea.  We are stretched beyond what we could've ever imagined.  We Cry out to Him and it seems as though He doesn't hear us:    
Psa 107:25-29
"For He commands and raises the stormy wind, Which lifts up the waves of the sea.  They mount up to the heavens, They go down again to the depths; Their soul melts because of trouble.  They reel to and fro, and stagger like a drunken man, And are at their wits' end.  Then they cry out to the LORD in their trouble, And He brings them out of their distresses.  He calms the storm, So that its waves are still."
Yes, although we sometimes feel as though He doesn't hear us, He really does.  He knows exactly where we are as a loving Father does!  And he knows what is needed to prepare us for the promise.
Patience is a Fruit of the Spirit that is developed over time. Gal 5:22   Referred to as "long suffering" (KJV), we often read this passage, over looking the fact that the development of this fruit requires suffering "long".   Not the kind of suffering we normally associate with punishment, rather as in the discipline a father uses in teaching his children.  It is where the child learns to trust that the Father knows what is best for them.  And nothing develops this fruit like "trouble".
Hbr 12:11
"No discipline seems pleasant at the time, but painful. Later on, however, it produces a harvest of righteousness and peace for those who have been trained by it."
When it is time, and the work that patience is doing in and through us is complete, we will see what God already knew, we have been  "Perfected for the Promise".  Our Heavenly Father hears us.  And He knows when we've developed enough to handle what He has promised us:
Psa 107:30 "Then they are glad because they are quiet; So He guides them to their desired haven.  Oh, that [men] would give thanks to the LORD [for] His goodness, And [for] His wonderful works to the children of men!"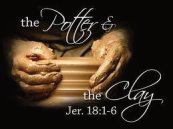 "Arise, and go down to the potter's house, and there I will cause thee to hear my words.  Then I went down to the potter's house, and, behold, he wrought a work on the wheels.  And the vessel that he made of clay was marred in the hand of the potter: so he made it again another vessel, as seemed good to the potter to make [it]."(Jer 18:2-4)
Have you ever felt as though your life was spinning out of control?  Your day to day existence was an endless cycle of pain, trouble & turmoil?  You cry out to God but it seems as though Heaven has shut it's doors, disconnected the phone and the only voice you hear is that of a pre-recorded voice message inside your head  " I am not available to take your call right now.  Please leave your name, the nature of your call and someone will get back with you as soon as possible?"  BEEP!!!  
No matter what we face in our lives or how we may feel, GOD has not forgotten us!  He knows the plans He has for our lives & His plans are GOOD!  (Jer.  29:11)  He has created us on purpose & for a purpose!!!  He makes no mistakes.  Even though our lives can  get turbulent & sometime seem out of our control, we are never out of His.  
Isn't it something that the vessel the Potter was molding (although marred) never left his hands?  So it is as the Master Potter molds  & forms us on the wheels of life.  There will be storms (Mat 7:24-27).  There will be trouble (Job 14:1).  We will experience loss & we will experience pain.  But we can rest with a blessed assurance that the  Master will use it all for the purpose He has created us (Ro. 8:28).
Up until now, you may have felt as though you have been marred beyond recognition.  You may feel as though there is nothing left in you that He could possibly use;  The marriage you once  hoped  for, is now a mere memory.  The person you see in the mirror  is a painful reminder of what you "used" to be.  The tides of life have taken a course far different than any you would've ever imagined.  The report from the Dr. may say "it's only a matter of time",   BUT GOD!!!
"And the vessel that he made of clay was marred in the hand of the potter: so he made it again another vessel, as seemed good to the potter to make [it]."   The potter's Clay  in this text is compiled of soil & water.  Two elements that when used together in just the right amounts, are mold-able & pliable.  Even when the object being formed is not perfect or becomes "marred", In the hands of a skilled potter, can still be formed into the treasured vessel of beauty in which is was intended(2 Cor. 4:7 ).  
The Word of God is synonymous with "water" (Eph5:26) as man is synonymous with "dust" (Gen 2:7)  As when God formed Adam from the dust of the ground and formed him into Man.  He spoke of His desired creation when He said "Let Us make Man in Our Image..."  (Gen 1:26) and it was so.  By God's word are we created & and this from the foundation of the earth.  You are no mistake neither are you an after thought.  You are not what others have labeled and abusively said you are because they couldn't or refused to see the value in you.  Nor are you what you have done.  You were created on Purpose and for a purpose.  God has hidden some things inside of you that are yet to be seen.
Therefore, though you've been marred, broken by words that cut you to the core & left you for dead,  God WILL make you again "ANOTHER" by the Word He has spoken over you!  You will live & not die!  You will recover from that toxic relationship!  You will heal from the loss of that loved one!    The words that once tore you down & killed your spirit will be replaced by words that build you up and give you Life!  His Word will not return unto Him void!  He will take the broken pieces and put them back together again!  He will mold you into a vessel fit for His GOOD pleasure and intended purpose!  Don't fret & don't give up!  You may have felt forsaken & all alone but I am here to proclaim to you "YOU, HAVE NEVER LEFT HIS HANDS!!!"
/