Shopping Cart
Your Cart is Empty
There was an error with PayPal
Click here to try again
Thank you for your business!
You should be receiving an order confirmation from Paypal shortly.
Exit Shopping Cart
Lord and Savior Jesus Christ! Well, we find ourselves in the middle of the summer, in the middle of the year 2015 (and prayerfully, I find myself in the middle of my life). It has been my observation that the majority (present company included) are usually spending more time dwelling on past exploits of life's journey or looking to the future, be it dread or hope, for what's next over the horizon, while neglecting the present position in the midst of the two tenses. This misappropriation of focus can even be considered a tactic of the enemy who means to do nothing less than distract us from the "present" (gift) that is called "Today", also known as "NOW". Be it the middle of life, the middle of the year, the middle of summer or the middle of the moment, we can do justice to amend or build on the past and prepare properly for the future by making the best of our current situation. So take some time today to smell the coffee, smell the roses, enjoy a conversation, feel some sunshine, appreciate the rain, savor a breath of fresh air, embrace your freedom, reach, teach and encourage a child, respect and support a senior, and generally live, laugh and love more --- TODAY!
My family just recently commemorated 16 years since we emerged from our wilderness experience...then officially proceeded in ministry. Our official ministry, ie. Christian practice, began in August 1999 at the
Kalamazoo Gospel Mission
. It was here that our faith walk continued and GOD showed us why we had to go through the previous 3 years the way we did, resulting in our week of homelessness. Those formative spiritual years prepared us to be effective ministers to others who were homeless. It also prepared us to deal with various aspects of ministry and to effectively cross denominational barriers.  Those invaluable lessons that we learned served as a template for how to plan to proceed in our service unto the Lord globally.
"Do not despise these small beginnings, for the Lord rejoices to see the work begin, to see the plumb line in Zerubbabel's hand."
Zechariah 4:10 NLT
2 Timothy 3 New King James Version (NKJV)Perilous Times and Perilous Men

3:1" But know this, that in the last days perilous times will come: 2 For men will be lovers of themselves, lovers of money, boasters, proud, blasphemers, disobedient to parents, unthankful, unholy, 3 unloving, unforgiving, slanderers, without self-control, brutal, despisers of good, 4 traitors, headstrong, haughty, lovers of pleasure rather than lovers of God, 5 having a form of godliness but denying its power. And from such people turn away! 6 For of this sort are those who creep into households and make captives of gullible women loaded down with sins, led away by various lusts, 7 always learning and never able to come to the knowledge of the truth."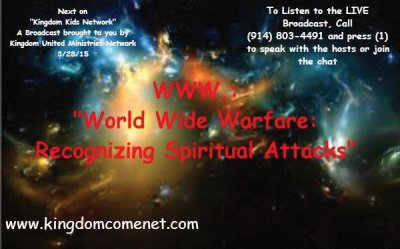 If ever there has been a time of war, it is NOW!  Not in physical manifestation only, but in specie "spiritual".  Since the
"Kingdom Kids Network"
broadcast on Saturday and the
"Dying to be Married"
on Sunday, the hordes of Hell have been marching and have enlisted the assistance of the unwittingly, the entangled and even those who have given way to their own carnality and fleshly desires.  The tides of life's boisterous  waves having beat against the apertures of men's hearts are wearing saints, disillusioning the simple and daunting the hope of our youth.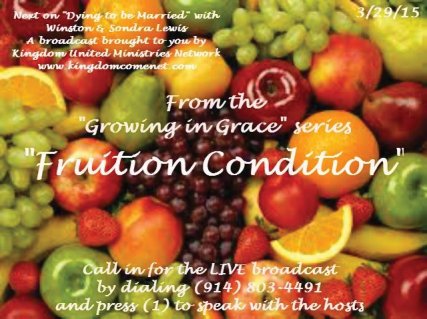 When facing the provocations that spew from lips of naysayers, backbiters, and haters, it is most important that we realize (though under attack) that this is not a flesh and blood warfare.  
Ephesians 6:12
Our enemy (the Devil) is out to utterly destroy our witness and halt our testimonies of the abundant grace and glorious workings of the power of God flowing in our lives, ultimately to steal the word sown in our hearts and he
uses
people.  
Our first response to offenses is usually to view the offender as the culprit and if we are not responding the power of the Holy Spirit, we can and sometimes will be led astray by our carnal man resulting in the ensnarement of the enemy to discredit our testimony and steal the word that has been given us.
Mark 4:16-17New King James Version (NKJV)
16:16 " These likewise are the ones sown on stony ground who, when they hear the word, immediately receive it with gladness; 17 and they have no root in themselves, and so endure only for a time. Afterward, when tribulation or persecution arises for the word's sake, immediately they stumble."

Oh, how to avoid the offenses of life?  The fight to overlook unwarranted criticisms of others, to bridle our tongues when we see the enemy is using someone to provoke us to anger, to die to our flesh and the lusts thereof that lead us headlong into ungodly relationships that disarm us, resulting in heartache, and devastation.  Yes, the Devil knows the
"enemy-in-me"
and has studied every move.  His imps and demonic troops have been given express orders to relentlessly
"steal, kill and destroy"
everyone on his radar.  He is the master deceiver and  his deceptions cannot be discerned by the carnal and un regenerative soul.
1 Peter 5:5-8New King James Version (NKJV)Submit to God, Resist the Devil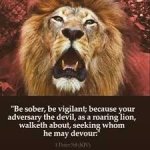 5:5  "Likewise you younger people, submit yourselves to your elders. Yes, all of you be submissive to one and be clothed with humility, for  
"God resists the proud,

But gives grace to the humble."
6 Therefore humble yourselves under the mighty hand of God, that He may exalt you in due time, 7 casting all your care upon Him, for He cares for you."
8 Be sober, be vigilant; because[b] your adversary the devil walks about like a roaring lion, seeking whom he may devour."
If we forget that God has a plan to bring  to fruition that which He planted in us for His glory, we will cower under pressure, draw back at the threat of confrontation and give in to the deceptions of man because we'd rather settle for what we do see rather than to wait and believe Him for what we don't (see spiritually).
Ecclesiastes 3:11 New King James Version (NKJV)
11 "He has made everything beautiful in its time. Also, He has put eternity in their hearts, except that no one can find out the work that God does from beginning to end."
Armor up Saints of God!  This is an ALL OUT WAR!  Now is not the time to give up.  It is never a time that good soldiers run away from their enemy.  Yours is relentless and he will not back down neither will he show you mercy. He wants to utterly annihilate you.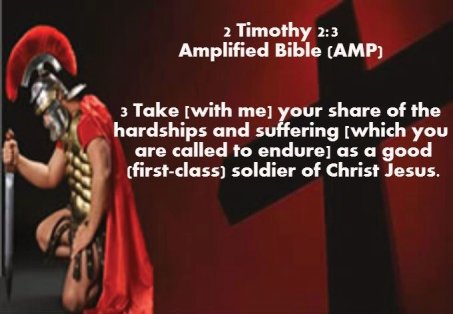 The motto of The Lords army is always to "Fight the Good Fight of Faith!" and to "Endure hardness as a good soldier"  
2 Timothy 2:3
 Be spiritually minded and lay aside every weight and sin that does so easily beset you or throw you off course.
 (Hebrews 12:1)
Lay hold of that which is before us, despising the weapons the enemy uses against us (Shame, guilt, false humility (which is a form of pride) and everything he's used against us in the past.   
Galatians 5:19-21 "The acts of the flesh are obvious: sexual immorality, impurity and debauchery; 20 idolatry and witchcraft; hatred, discord, jealousy, fits of rage, selfish ambition, dissensions, factions 21 and envy; drunkenness, orgies, and the like.  I warn you, as I did before, that those who live like this will not inherit the kingdom of God."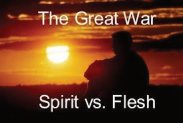 His grace will always be sufficient for any battle we face.  Continue to look to Jesus, the Author and the Finisher of our faith.  If we suffer with Him, our reign is sure!
It is a fight for "Fruit".  The fruit that the Word of God produces in our lives.  Therefore, we cannot be passive and be intimidated when evil tries to silence us, when the kingdoms of this world mandate that we worship at the feet of compromise and ungodliness.  We are living in a time where the tree will be known by its fruit as never before.  We are engaged in a "Fruit Fight"!
Matthew 12:33King James Version (KJV)
33 "Either make the tree good, and his fruit good; or else make the tree corrupt, and his fruit corrupt: for the tree is known by his fruit."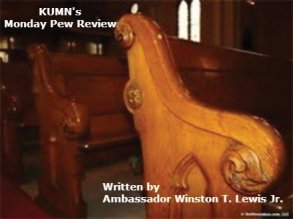 Blessed Monday to all. Praying that you all had a blessed weekend. It was quite an eventful one for us at
Kingdom United Ministries Network
. Although this past weekend feature a rare 5th Saturday, where there weren't any of the usual Saturday morning cyber services, there is much that can be updated on the spiritual front. Due diligence must also be given for the summation of the previous series,
"Formulas for Resolutions"
.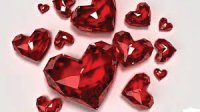 First, Sondra and I recognized and celebrated our 23rd wedding anniversary. By exclaiming,
'To GOD be the glory'
, I don't mean to sound trite or sound cliche, but we have literally and even more so spiritually, mean this in all truth. Had it not been for the Lord on our side, we would
not
 have been. Yet, by His grace, we have made it this far with plans to fulfill the ultimate vow: 'til death do we part'. You can see the video that Ambassador Sondra (sounding official for a reason) put together of us over the years. Only because she went through the trouble will I relent to exposing these old pictures, so just click on  the video below: 
On DTBM -
Dying To Be Married With Winston And Sondra Lewis
, we began a new series for the month of February, "Levels Of Love". In this series, we will examine the four levels of love as categorized by the Greek interpretations of love, which include
Eros, Phileo, Storge and Agape
. This past cyber-service we focused on Eros, the shallowest level of love, and determined whether or not this level of love which indicates the "erotic" or physical attraction that we have for one another, should even be considered in the conversation with the other three, deeper and more intense levels of love. Go to 
DTBM: The Levels of Love
Finally, stay tuned for the upcoming blog, Midweek Meditations later this week for the summation of the previous series "Formulas For Resolutions". After all there is always something left on the table. This begs us to ask: 'What's in your pew?"
On the December 2014
"Naomi's Daughters"
broadcast we had two amazing and insightful guests; Sister
Maranda Forney
and Brother
Mawejje Joseph
all the way from Kenya. They brought a mighty message about giving that struck me so much that I had to write about it.
The need that they shared with us can be found at
www.generationyouthuganda.org.
This ministry was brought to Brother Joseph in a dream and we all know that God uses many avenues to show us our purpose in the Body of Christ. This dream told him that he was called to help girls and young women.  He had the opportunity to speak to some youths and he was told that one of the larger needs for the young women was monthly sanitary products. That dirty rags was what they primarily used at that time. Now to women here in the United States, this is something that we have never needed to do, nor could we imagine, but ladies, the need does exist. This man, a man who has no need for the products, has taken this project on, among others, to help these needy young women.
Christ has called His believers to rise up and to take on the task of showing His love through them. He wants the world to see that the love of Christ is not just a tagline but that it is a real and a tangible thing. So much so, that He is calling us all to action. Just as the disciples in
Matthews 14
, Christ ministered to the 5000 that gathered around Lake Galilee upon his crossing. He healed the sick and then He gave them a word. In verses 15 and 16, the disciples suggested that the time had come to disperse the crowd so that they could go home and have a meal and Christ said,
"No, you feed them"
.  I love the way that Christ gives us the word and an example of how to love people in need.  Jesus did not agree in passing that the crowd maybe hungry, He did ask the disciples what could be done for the people, No. He told them to contemplate no longer and to feed the crowd. Just as Jesus told Peter in
John 21:17 "Peter, do you love me? Feed my sheep."
It is our job to feed His sheep, to clothe the naked to visit the sick and imprisoned and to proclaim the Good News.
So, this is a call to action! I ask that everyone reading; everyone that is within the sound of my voice, open their hands and hearts to someone in need. Find a ministry, like
Kingdom United Ministries Network
, that is good soil and plant a seed! KUMN is good soil that has an honest heart (
Luke 8:15 CEV
).  They listen and they obey the voice of God, being led by the guidance of the Holy Spirit.  Generation Youth is an organization that is clothing the naked and welcoming the stranger (
Matt 25: 35)  
The're many other ministries out there who's greatest gift to the world is that they show the Love of Christ by caring for his sheep.
Find good ground, sisters and brothers and sow a seed. Reach out to your local church and get involved. I know that it can be a daunting task to find where your gifts are best put to use, but I challenge you to do as it is given to us in
Ecclesiastes 9:10
and
"do what your hands find to do."
Get busy spreading love abroad. Let's not hide our light under a bushel but let our light shine!
Amb. Kathy Thompson
No Ordinary Storm
Mark 4:37-39
 And there arose a great storm of wind, and the waves beat into the ship, so that it was now full.
And he was in the hinder part of the ship, asleep on a pillow: and they awake him, and say unto him, Master, carest thou not that we perish?
And he arose, and rebuked the wind, and said unto the sea, Peace, be still. And the wind ceased, and there was a great calm.
This was no ordinary storm.  Previously, Jesus had been teaching on the kingdom through a series of parables.  It was in this very ship that he taught by the sea side because of the multitude that had come to hear him.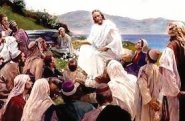 He taught them the parable of the sower and the seed.  He taught them that a candle is meant to be seen and that nothing in secret would remain hidden.  He told his disciples that to them it was given to know the mysteries of the kingdom but that it was hidden from those who chose not to seek it out.  And that if they didn't understand the parable of the sower and the seed, they wouldn't understand any other. Little did they know that the teacher was in his glory and their ship was his class room.  They were being given the answers before the test.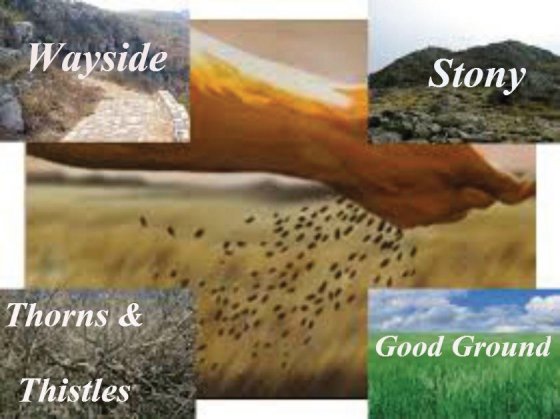 Have you ever been given a dream, a word that resonated in your spirit that you knew, was more to it than met the eye?  You knew God was telling you something.  Something that took seeking Him to get an understanding?  "It is the Glory of God to conceal a thing.  But the glory of kings to search a matter out."
Proverbs 25:2
  Jesus was the master teacher (orator).  He could give a parable that man's wisdom had no grasp of understanding.  But it was not in the telling that they would learn, but rather in the test that followed.
After teaching many parables that day (lessons on various aspects having to do with the Word of God, the one who teaches it, enemies of the Word, those who receive it and those who don't, why and what the word will produce) in verse 35b, the teacher is ready to give them the test saying "Let us pass over unto the other side."
The scene is set.  It is evening and along with the boat that Jesus and his disciples are on are several other smaller boats.  Then comes an unusual storm.  A storm so fierce that on the sea, it is of hurricane proportions.  This in and of itself is unnatural as hurricanes are common only in large bodies of water such as the Atlantic Ocean.  But this storm sends their boat reeling as the waves beat ferociously against it.  The waves are so relentless, they lift the boat high almost touching the sky and with the tumult of the violent winds, send the boat crashing to depths of the sea.  The deep looming sound of the creaking of the helm and the cracking of lightening overwhelms the men's hearts as the waters that were once on the outside of the boat have now come inside and their boat is now full.  Although a few of them are seasoned fisherman and have gone through storms before, they have never experiences anything like this.
Isn't it something how no matter what you think you know about life, there are times when our faith is being tested that we face unusual circumstances that seem to come from nowhere?
Psalm 107:23-30Amplified Bible (AMP)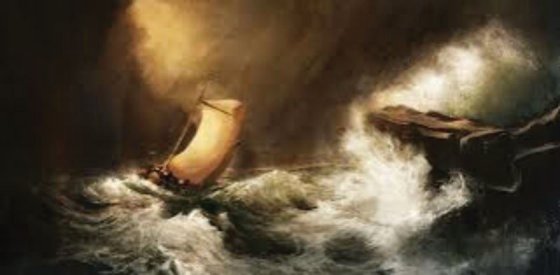 Some go down to the sea 
and
 travel over it in ships to do business in great waters;
These see the works of the Lord and His wonders in the deep.
For He commands and raises up the stormy wind, which lifts up the waves of the sea.
[Those aboard] mount up to the heavens, they go down again to the deeps; their courage melts away because of their plight.
They reel to and fro and stagger like a drunken man and are at their wits' end [all their wisdom has come to nothing].
Then they cry to the Lord in their trouble, and He brings them out of their distresses.
He hushes the storm to a calm and to a gentle whisper, so that the waves of the sea are still.
Then the men are glad because of the calm, and He brings them to their desired haven."
So the men cry out to Jesus and awake him from his rest.  Now its one thing for them to be going through all of this and after all, wasn't it Jesus who said "Let us pass over to the other side?"  We wouldn't be going through this if it weren't for us following him!  And to make matters worse, when we need him the most, he's in the back of the boat (uh, class room) sleeping!
Have you ever felt like when all hell was breaking loose in your life that Jesus was somewhere asleep?  But even the answer to this question (I'm sorry, test) had been given to them when he said in verses 26-29 of Mark 4:
So is the kingdom of God, as if a man should cast seed into the ground;
And should sleep, and rise night and day, and the seed should spring and grow up, he knoweth not how.  For the earth bringeth forth fruit of herself; first the blade, then the ear, after that the full corn in the ear.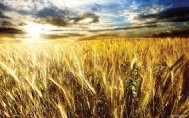 But when the fruit is brought forth, immediately he putteth in the sickle, because the harvest is come."
Now the master teacher is ready to reveal the lesson that he'd spent all the day teaching them.  How well did they do?  Did they pass?  He arises (gets up out of his chair at the back of the class room) and does two things:  He rebukes the wind and says "Peace, Be Still!" then turns to the disciples and asks them "Where is your faith?"  Jesus never asks a question to get information.  But this was a question of "location" (what ground are you?) for his disciples to answer.
All the day he'd been teaching them how faith operates and that there are enemies at work to steal the word it produces.  He'd told them that depending upon the type of ground (condition of the heart), the measure of word they'd receive would yield the same measure of return.  He had taught them that when the harvest (the test) came, that what they'd received would be manifest.
It would seem that Jesus would only need to speak Peace or to simply tell the winds to "Be still", but upon looking closer at the lessons he'd been teaching them, there were two points of interest being addressed in this lesson: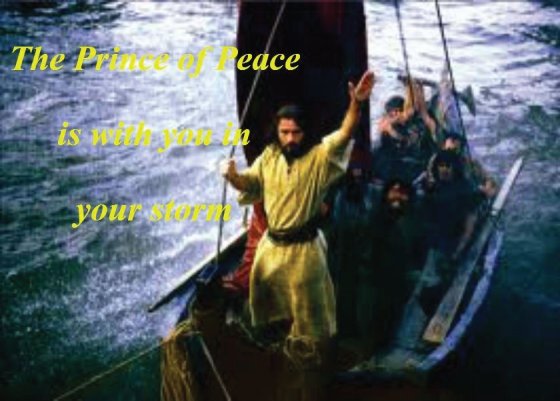 The "Peace" was to the disciples who only needed to realize that The Prince of Peace was with them all along.  That where, when and how He tells you to go is enough to sustain you when you receive and obey His Word.  He will never lead you where He will not keep you.
"Be still" was to the elements that surrounded them (the winds, the waves).    "What manner of man is this, that even the wind and the sea obey him?"
Mark 4:41b
This storm was not an ordinary storm.  It was a lesson in faith that Jesus ordered and because he initiated it, he also controlled it.  All along, as impending, dismal and horrific as it may have been for his disciples, it was all happening in a "controlled" environment.  It came for them to "pass" over to the other side.
"Then they cry to the Lord in their trouble, and He brings them out of their distresses.
He hushes the storm to a calm and to a gentle whisper, so that the waves of the sea are still.
Then the men are glad because of the calm, and He brings them to their desired haven." 
Psalm 107:28-30
You may be going through a storm right now.  Speak peace over your soul and tell the winds to "Be still!"  You are not alone, and this is no ordinary storm.

 Video blog by
Ambassador Sondra L. Lewis
If this has been a blessing to you,
you are welcome to share this Blog with others.
Video produced by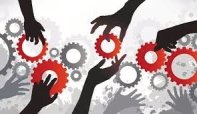 Romans 8:28  King James Version (KJV)
28 And we know that all things work together for good to them that love God, to them who are the called according to his purpose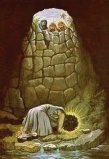 Surely, Joseph didn't see himself second in authority only to Pharaoh in Egypt while in betrayal of the Dothan pit by his brothers.  Genesis 37 Nor, did the three Hebrew boys have any visible sign that they would be delivered out of the furnace of affliction as they made a decision not to bow and worship the idols of  Nebuchadnezzar.  Daniel 3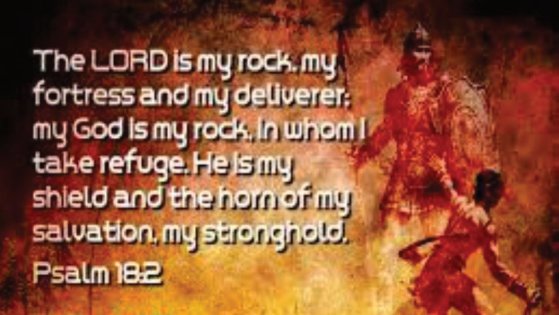 But what they did have was something deeper, something more powerful and more real than the obstacles they faced.  They had a "Know"  that was greater than their opposition, more real than what they saw with their natural eye that in spite of danger, sustained them. 
"And we know that all things work together for the good to those who love God, to them who are the called according to His purpose"Romans 8:28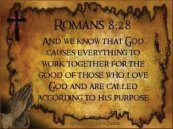 When faced with opposition, tribulation or fiery trials that test you and bring you to your knees, you must embrace something greater than the facts.  Facts can change and are contingent upon happenings surrounding them.  Truth (God's Truth) is unchangeable.  It can not be manipulated, it doesn't change due to circumstances but in fact, can "change" circumstances.  
John 17:17 "Sanctify them [purify, consecrate, separate them for Yourself, make them holy] by the Truth; Your Word is Truth."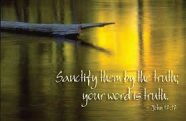 The fact is, when we know what God's word says about  us and the power we wield by it, we can walk in the assureds that whatever the battle we face, we have already won. And whatever has previously had us bound, we are now made free.   
John 8:32
It is in the knowing that Joshua and Caleb declared they were well able to dispossess the giants in the land that the ten coward away from. 
Numbers 13:30
In spite of the word of the Lord that He'd given them the land, they couldn't receive the "Truth" for looking at the facts.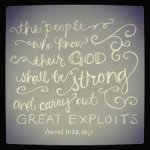 Had they perceived that "a people who know their God are strong and will do great exploits" (
Daniel 11:32
)   They would have seen the giants as nourishment for the battles to come as Joshua and Caleb referred to them as being "bread for us"  
Numbers 14:9
Having the "know" factor is what guarantees your victories when situations look impossible.  It silences the evil forebodings that keep watch 1st, 2nd and 3rd shift assigned to keep you anxious and fearful.  It gives you the bold confidence to speak and declare your outcome and initiates your help in bringing it into fruition.  It is the determining factor that allows you to acknowledge your failures and shortcomings but not be limited by them.
The know factor will give you the ability to look death in the eye and decree and declare "Not today!  Not like this!  I will Live and Not Die!  This is the will of The Lord!"
It will cause you to dare to step out into what God has divinely called you in to.  No fear, guilt or shame will ever hold you back again when you know who you are.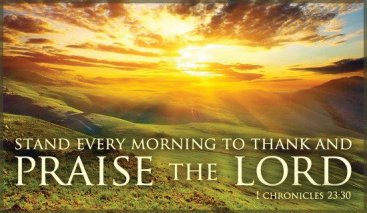 Isaiah 43:21 The Message (MSG)16-21 
This is what God says,
    the God who builds a road right through the ocean,
    who carves a path through pounding waves,
The God who summons horses and chariots and armies—
    they lie down and then can't get up;
    they're snuffed out like so many candles:
"Forget about what's happened;
    don't keep going over old history.
Be alert, be present. I'm about to do something brand-new.
    It's bursting out! Don't you see it?
There it is! I'm making a road through the desert,
    rivers in the badlands.
Wild animals will say 'Thank you!'
    —the coyotes and the buzzards—
Because I provided water in the desert,
    rivers through the sun-baked earth,
Drinking water for the people I chose,
    the people I made especially for myself,
    a people custom-made to praise me."
All to often, we have relegated praise to a feeling, an expression of gratitude and appreciation for the one being praised and haven't realized that it is more than this. Much , much more.  In 
Proverbs 18:20
the psalmist states that a mans belly shall be satisfied by the fruit of ones lips and the writer of 
Hebrews 13:15  t
eaches us that we are to offer up to God "the sacrifice of praise which is the fruit of our lips giving thanks to His Name"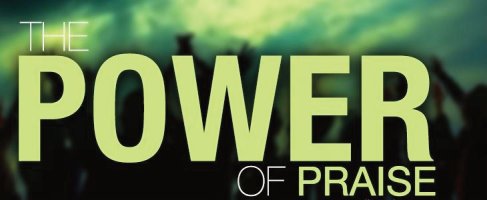 Praise is  a POWER WEAPON  that will still the enemies in our lives and defeat our adversary.  We were created in the image of God to speak into our earthly lives what the will of God is in Heaven
(Matthew 18:18 )  
as God spoke in the 21st verse of Isaiah 43
"the people I made especially for myself,a people custom-made to praise me."  
We were created to make manifest the glory of God on earth, unique to his design and purpose, operating from a power source not of this world.  
2 Corinthians 10:4
(For the weapons of our warfare are not carnal, but mighty through God to the pulling down of strong holds;)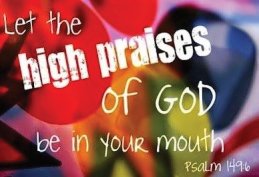 Therefore, praise (out of  the mouth of a believer ) is more than an admiration of the true and the Living God, but is a lethal weapon against anything that is sent into our lives to steal, kill or to destroy us.  In fact, for each attack of the enemy, there is a specific praise designed to defeat that particular battle we are in.  Our praise accesses the Heavenly hosts and commands divine strategies on earth.   We see time and time again when praise went before the people of God, their enemies were defeated in unique and profound ways.  
When we offer the "sacrifice of praise"  we are doing more than confusing the enemy, we are declaring and bringing into remembrance previous victories and recreating the atmosphere for what was done before, to be done again.  Our praise solidifies our victory both to our enemy as well as to us.  There is "customized" power made accessible through our praise.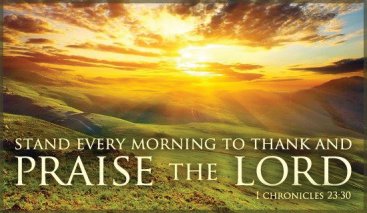 Praise (like mercy) must be new every morning.  
1 Chronicles 23:30
We cannot fight today's battles off of yesterdays praise.  But when we praise God and magnify His Name (identity, character and purpose) we enter into fellowship with Him by creating an atmosphere in which He can dwell comfortably in.  We tap into the Central intelligence of the Holy Spirit where all things pertaining to life and Godliness are made available to us.  We are made privy to information in the spirit realm that are more real than that in which we see with our natural eyes.  
It is in this place of praise, where our weapons are custom made for the current battle we are in, may encounter later in the day or thwart an attack that was being formed against us.
Isaiah 54:17
  This is indeed the most powerful weapon against the enemy and the reason it is so often the most difficult to use.  The enemy knows that if he can get us caught up in how we "feel", we will not enter into this secret place.  
Psalm 91
   But for the believer, this is the safest, most powerful and effective position to be in.  
As we begin to change our perspective to focus on the true power and authority we have when we offer up the sacrifice of praise and embrace that more than any other time, God is more with us when we praise Him, we will begin to see more victories in our lives.  We will walk in a greater peace in knowing that our prayers are heard and we will begin to see those we encounter to also walk in greater victories.  So don't wait, PRAISE HIM NOW!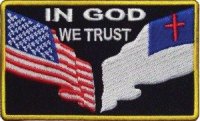 I
t is my prayer that this entry finds you at peace and free.  As we, in America, are on the precipice of celebrating our independence, it should behoove us to take a moment to truly reflect on what our freedom means. Surely as we embrace such noble notions of obtaining "life, liberty and the pursuit of happiness", we should also realize all of the other elements that make freedom and independence such the revered concept. Accountability, responsibility and piety are other characteristics which should be harmonized when we raise our voices to declare our independence. Be it by our expression of our independence via fireworks, celebratory barbecues, during family gatherings and reunions, or much deserved vacations from the many hard and stressful days of running in life's rat race, we should all take a quiet moment to reflect on how all can extend the borders of Freedom, in particular to those who don't know it's sweet taste.
We can extend the declaration of independence beyond just written words or even audible voices to practical actions manifested in the form of accountability, responsibility and piety. We can exude our accountability by submitting to, respecting and upholding the laws and tenets of this country which we revere and to whom we pledge our allegiance. We can show our responsibility by being ready, willing and able participants in the process of making these laws better for all our society, presently as well as in the future; don't just talk about it, walk about it. Ultimately, being pious, i.e. submitted and committed to the true and living GOD and HIS righteousness will insure our prosperity. Even though this great declaration of independence emerged from the lips of flawed individuals and even hypocrites, one can't deny the evidence of the progress of a country who has dared to rally around such beliefs. Consider the benefits available for an even greater form of independence, as in True Freedom.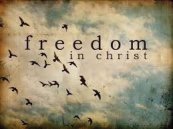 As much as there are many benefits to the freedom that America offers and is representative of around the world, there is an even higher form of freedom that we who be of faith should also take a reflective moment to relish, re-evaluate and then plan to re-iterate in our everyday life styles. Surely the passage found in the gospel of
John chapter 8:31 -36
, where Jesus emphasizes that those who follow Him are free indeed, is one of the most obvious and prominent scriptures which highlights this higher level of freedom. It's a level of freedom that supersedes Freedom of Speech or whether we can carry weapons or not be discriminated against. Though those noble tenets, which we so value here in the U.S.A. are priceless treasures worth fighting for, and yes, even dying for, The Greater Truth that makes us free indeed should be even more emphasized. It is not just a tenet worth fighting and dying for, it is one which makes life worth living. It is the understanding of this powerful truth which will loose the fetters, chains, dictatorships, autocratic ruler-ships, oppressive habits and binding addictions which have enslaved so many.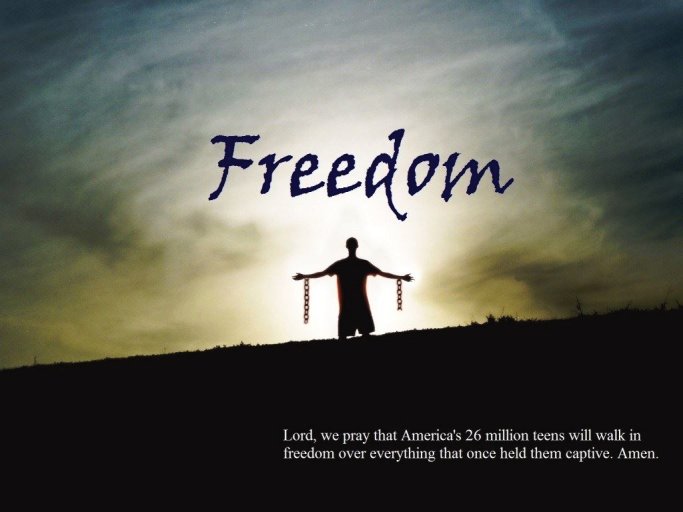 The one who was prophesied about who was to set captivity captive
(Psalms 68:18)
has already come and is now accessible to all
(Ephesians 4: 7&8)
. All one needs do to be engrafted in to such invaluable and precious freedom is believe in their heart and confess with their mouth
(Romans 10: 9 &10)
that this Lord King Christ shed His blood on that cross for them and rose again to establish our opportunity to be free indeed. So in this time where our freedom is emphasized, don't just celebrate and reflect on 
your
 freedom, but pray that others be free and pray for the strength, wisdom and thereby the ability to spread this life-changing word effectively to someone else who may know that they too can be free indeed.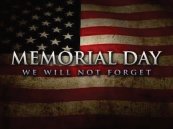 Blessed Memorial Day
to all those recognizing such a day. As it is our way to celebrate life at Kingdom United ministries Network, we will take the time to recognize, appreciate and give rousing support to all those troops who are serving and have served in the military. We took a moment on the most recent episode of "Dying to Be Married With Winston and Sondra Lewis" (click on
Mayday, Mayday! PG Suggested: Parents just don't understand
in case you missed it)  during the Exhortation segment. We also took our appreciation and recognition to the next level by taking a moment to also recognize soldiers in the Army of the Lord, standing on the passage found in
Hebrews 12:1
which states,
"Wherefore seeing we also are compassed about with so great a cloud of witnesses, let us lay aside every weight, and the sin which doth so easily beset us, and let us run with patience the race that is set before us"
. This passage reminds us as well as encourages us that because we have had such great examples of soldiers of the faith like Abel and Abraham and others of that ilk, that we should likewise stay focused in our faith to achieve and obtain similar fruitful results, if we make sure to avoid the distractions that are ever around us.  On Saturday, 5-24-14, Kingdom Kids Network (in case you missed it, click on
KKN: Reality Check!
) set and example of of this very focus when they tackled the subject, "Reality Check". this shows how uniform the message is as this is just what is necessary in order to remain focused on our goal of being included in that great cloud of witnesses ourselves. What was some good word that you experienced this past weekend?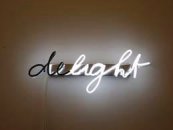 Delight yourself!
by
Elaine Barnes-Bailey
Psalm 37:4
"Take delight in the Lord and He will give you your hearts desires."
This Bible verse has been on my heart for the last month or so as I even posted it as my Facebook status.
I asked myself even exactly what does that mean?  How do I take delight in the Lord? I decided to search and look even deeper. This is what I found and just wanted to share and may it encourage you and bless you today.
To delight means to take great pleasure in. Revel in and to wallow in:  Strong feelings of happiness, great pleasure of satisfaction.   As I began thinking what do I find strong feelings of happiness in and how do I literally wallow in it?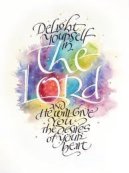 These are a few I came up and you think of some things you love wallowing in or delighting in. These are some and of course not all for I surely don't want to bore you :) I find great pleasure in going to movies, writing, swimming, cooking, shopping and serving my wonderful husband and family. 
Then I again asked myself what action do I take to make sure I attain that type of delight? Let's just take the example of shopping. To delight, wallow or take great pleasure in having a great experience in shopping I would plan my day, check the weather to make sure I am dressed appropriate, ask a friend if they would like to go with me, check on the sales and make a full day of it! Well wouldn't you? Fin ding much pleasure in that day and Finding all the great sales and purchasing I would share on face book of course pictures of my great bargains not to brag in the wrong way but just so excited I found what I wanted at great prices! What joy!
See the Bible verse? Take delight in the Lord! In other words wallow in Him, revel in Him, and find great pleasure of satisfaction in Him or glory in Him. Do you get the idea? Honestly how often do I or you start our day or plan our day out like that? Ouch!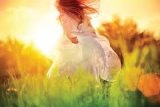 Let's look at the second part of the verse which tells us what happens if we do wallow in our Savior or revel in Him! The verse says that He will give us our hearts desires. Wow!  He is telling get us as a promise not as a maybe but a promise, assertive as He will!!!
Our hearts desires are things we yearn for or have a longing for. You long after or want. To help us distinguish what that could be just measure your desire with Philippines 4:8 and 1 Corinthians 13.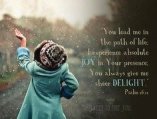 How do I or you wallow in Him? I take delight in my Jesus by finding all I can about Him! Where else but in His love story called the Bible. To delight in Him I found out you plan on reading His word, you start your day worshipping and praising Him through prayer, that means talking to Him communicating and sharing with Him which is open all day a d night for He never sleeps. Delight in His promises and that He is loving and faithful. There is so much about our Jesus that it will take an eternity to completely know Him! So take delight in Him and as I continue to know Him and you too share with others just as you share your other delights in life!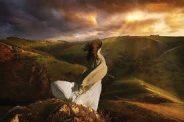 You see my beautiful sisters why would we not take delight in Him who loves and sings over us? I challenged myself and now challenge you with this verse that we have heard for so long this year of 2014 to really meditate on Psalm 37:4 "Take delight in the Lord and He will give you your hearts desires."
Till next time...
In His Service
Elaine
/